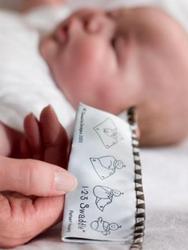 "SwaddleDesigns Goldilocks Guide™ reminds parents that when baby is sleeping, it is important that baby is not too hot or too cold, but comfortably warm,"
Seattle, WA (PRWEB) April 11, 2011
SwaddleDesigns®, a baby product company founded by Lynette Damir, RN, is announcing the SwaddleDesigns Safe Sleep Program. The SwaddleDesigns Safe Sleep Program strives to educate new parents and caregivers using up-to-date research and information with the goal of increasing awareness of safe sleep practices to reduce risk of SIDS and help parents create a safer sleep environment for Baby to Sleep, Thrive and Grow.
The SwaddleDesigns Safe Sleep program is designed to help bring key topics and research to the forefront of public awareness so parents can make informed decisions when caring for their baby. While many elements of the SwaddleDesigns Safe Sleep Program are consistent with existing safe sleep programs, SwaddleDesigns has focused particular attention on the topic of temperature awareness and the importance of parents checking baby to make sure that baby is not too hot or too cold.
"There is a lack of balanced dialog related to the risk of overchilling and overheating baby and the importance of keeping baby comfortably warm," stated Lynette Damir, RN, founder and CEO of SwaddleDesigns. "We'd like parents to understand the importance of temperature awareness. Babies are not good at regulating their temperature, so parents need to dress their baby based on the temperature of the sleeping environment and touch and feel their baby's neck, back or stomach to make sure baby is not overly warm or overly cold. Research has shown that both overheating and overchilling are risk factors for SIDS as stated in the International Journal of Epidemiology."
"SwaddleDesigns Goldilocks Guide™ reminds parents that when baby is sleeping, it is important that baby is not too hot or too cold, but comfortably warm," said Lynette.
"Parents need to be aware that they should not overbundle baby and should not overheat baby's room, additionally, it is equally important for parents to understand that when baby is too cool during sleep that baby will use his or her energy to stay warm instead of spending energy to grow and thrive," explained Lynette Damir. "Increasing the awareness of the risks associated with overchilling is especially important, because research has shown that insufficient thermal insulation is a risk factor for SIDS."
SwaddleDesigns Safe Sleep Program includes key recommendations from the American Academy of Pediatrics (AAP) and National Institute of Health (NIH):
Always Place Baby on Back to Sleep
Always place baby on his or her back for sleep - for nighttime sleep and nap time sleep. The back sleeping position reduces risk of SIDS. Research has proven that babies sleep better on their back when swaddled and swaddling may help keep babies on their backs. Researchers have concluded that when swaddled baby sleeps better on his or her back, then parents and caregivers are less likely to place baby in the unsafe tummy position.
Firm Sleep Surface
Baby should sleep on a firm sleep surface, in a bassinet, cradle or crib near the mother's bed, without any soft toys, pillows or loose bedding. The Consumer Product Safety Commission recommends a fitted sheet on the baby's mattress. Babies should not be placed for sleep on water beds, quilts, pillows, sheepskins, or other fluffy surfaces.
No Soft Objects
No soft objects or loose bedding in baby's bed during sleep time. The AAP recommends no stuffed animals, no sheepskin, no quilts, and no pillows. Medical experts recommend that parents remove pillow-like bumpers from baby's crib and either use flat, thin bumpers or no bumpers at all.
Smoke-Free Environment
Always keep baby's environment smoke-free by not smoking when pregnant, near your baby, or in an area where your baby spends time or sleeps. Maternal smoking during pregnancy has emerged as a major risk factor in nearly every epidemiologic study of SIDS.
Temperature Awareness
It is an important responsibility of the caregiver to dress baby appropriately for sleep based on the temperature of their environment. Parents should not overdress or underdress baby. As a general guide, the American Academy of Pediatrics recommends dressing baby in no more than one layer more than an adult would use to be comfortable in the same environment. Baby's head should be uncovered, unless baby weighs less than eight pounds and the room is cold.
Cool hands and feet are considered okay due to baby's immature circulatory system, but tummy, chest and back should be warm and dry. A sweaty neck and back is a sign of overheating and a layer of baby's clothing should be removed. A cold tummy is a sign baby is too cool and an adult should hold baby skin to skin until baby is warm and an additional layer should be added. Baby should be rechecked.
Babies are not good at regulating their own temperatures. No blanket can naturally regulate baby's temperature for them, so parents need to touch and feel their baby to ensure baby is not too hot or too cold.
Do not overbundle a sick or feverish baby. Do not overheat the baby's room.
Most medical experts recommend a sleep environment of 65-70°F (18-21°C).
Ventilation
Be sure that air can circulate freely around baby's face. A small fan in baby's room can increase ventilation, but should not blow air directly on baby.
Allow Baby to Suck on Fingers or a Pacifier
Sucking is the most organizing behavior of the newborn – it helps baby with sleep/wake control. Infant researchers recommend parents to swaddle baby with hands within reach of mouth, so baby can suck on his or her fingers to self-soothe. Alternatively, consider using a pacifier at sleep time once breastfeeding is established. A pacifier should not be reinserted if it falls out and baby is asleep.
Do not use Positioners
The AAP discourages use of positioning devices.
Keep all Cords Away from Crib
Electrical cords from video monitors, cameras, and window treatments should be kept a minimum of 3 feet from baby's crib and secured out of child's reach. Cords are a strangulation hazard.
SwaddleDesigns Safe Sleep Program can be viewed at SwaddleDesigns.com/safe-sleep. Parents may print the SwaddleDesigns Safe Sleep Guidelines and provide a copy to any caregiver who is taking care of their baby. SwaddleDesigns recommends that parents have a conversation and review the guidelines with their baby's caregivers to ensure that everyone caring for their baby understands the important guidelines to reduce risk and provide baby with a safe environment to sleep, grow and thrive.
Meet Lynette Damir, RN, Founder of SwaddleDesigns
Lynette was inspired to create stylish and functional products to help parents care for their new babies. As a registered nurse and mother of two, she understood the benefits of swaddling babies. Lynette used her healthcare background and her design education from the Art Institute of Seattle to develop the Ultimate Receiving Blanket® with swaddling instructions sewn to the edge of the blanket (patent pending). Lynette uses evidence-based research when developing products and she believes it is very important for parents to have current and accurate information so they can make informed choices when caring for their newborn. Lynette created the Goldilocks Guide™ to help educate parents and as an easy to remember tool to help parents remember to keep their baby comfortably warm.
About SwaddleDesigns, LLC , http://www.SwaddleDesigns.com
SwaddleDesigns, founded by Lynette Damir, RN, in 2002, was the first company to introduce the large square swaddling blanket to the US and many countries around the world. Lynette's blanket is known as the Ultimate Swaddling Blanket® because of its premium quality fabric, decorative edge, and the innovative 123 Swaddle® instructional label that helps new parents master the art of swaddling. Today, SwaddleDesigns markets the award-winning and best-selling blanket as the Ultimate Receiving Blanket® because the multi-use blanket is wonderful for swaddling and so much more. Parents love their SwaddleDesigns blankets because they are soft, beautiful, versatile, high-quality, durable and deliver long-lasting value.
Lynette designs the SwaddleDesigns products, SwaddleDesigns exclusive prints and she selects every component based on its color, texture, durability and quality. SwaddleDesigns is committed to providing functional and stylish products to help new parents comfort and care for their baby. SwaddleDesigns offers swaddling blankets in 2 fabric weights, so parents can select the appropriate fabric for their environment and because every baby is unique and the temperature of the ambient environment may change from day to day. SwaddleDesigns Ultimate Receiving Blanket® is made using lightweight 100% cotton flannel and the SwaddleDesigns Marquisette Swaddling Blanket® is a very lightweight 100% cotton open weave fabric. Soft natural cotton is gentle next to baby's delicate skin and cotton is a breathable fabric. SwaddleDesigns recommends the Ultimate Receiving Blanket in moderate to cool environments and recommends the Marquisette Swaddling Blanket in warmer environments. It is important to note that US hospitals trust and use cotton flannel to swaddle babies.
###