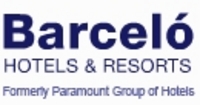 (PRWEB) April 8, 2011
The restaurant at the Barceló Oxford Hotel has been awarded its first prestigious AA Rosette, bringing talented Head Chef, Brian Kerr, up to a grand total of eight.
Brian, who has been Head Chef at the Oxford hotel's Medio dining restaurant for just two years, has won at least one AA Rosette for every hotel or restaurant he worked at over the last 15 years.
He says: "I am obviously delighted to have won my 8th AA Rosette and I am already working towards another one for the hotel. Since I was appointed as Head Chef, I have transformed the Medio restaurant into a popular fine dining destination, significantly raised the standard of service and investing time into training my staff. I am extremely proud of what my team and I have achieved over the last year and I hope to raise the profile of the restaurant even further during 2011."
General Manager at the Barceló Oxford Hotel, Cormac O'Hara, says: "We are extremely lucky to have such a talented Head Chef and I am extremely grateful for all his hard work over the last two years."
Having trained at the prestigious five star Gleneagles Hotel in Scotland, Brian's first role as Head Chef was at the Radisson Portman Hotel in London, aged 25, when he turned an unused syndicate space into a popular fine dining restaurant, which was awarded 2 AA Rosette's just 6 weeks later.
The Barceló Oxford Hotel is now the largest hotel in Oxford area to have been awarded a prestigious AA Rosette.
The Medio dining restaurant at the Barceló Oxford Hotel is designed to cater for couples, families and large groups, serving delicious modern and contemporary dishes in an a la carte style menu created by Head Chef Brian Kerr.
The Barceló Oxford Hotel is located just minutes from the M40 and Oxford City Centre, close to popular local attractions such as the elegant Blenheim Palace and the iconic Ashmolean Museum.
This Oxford hotel boasts 168 contemporary bedrooms. Guests can dine in the AA Rosette Restaurant or relax in the Bar with a drink, and the hotel Coffee Lounge is ideal for business meetings. The newly opened Oxford hotel spa & beauty rooms offer a wide range of spa and beauty treatments, and are the perfect place to be pampered. Open to hotel guests and local members alike, the Health Spa Club at Barceló Oxford Hotel offers a range of facilities including an indoor swimming pool, sauna, steam room, fitness suite gym, and squash courts.
For further information or to book, visit http://www.barcelo-hotels.co.uk, or our UK 4 star hotels page or call 01865 489988.
# # #