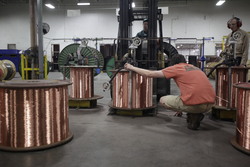 Hartselle, AL (PRWEB) April 8, 2011
Cerro Wire LLC, a leading manufacturer of copper electrical building wire and cable, announces that its Ogden, Utah manufacturing plant has achieved a rate of zero OSHA-recordable incidents over the last two years and has only had 4 over the last five years. The plant's innovation and attention to safety is one of the key reasons that the company's True Sequential Footage™ product was named one of the nine Top Products of 2010 by Wire and Cable Technology International.
The dramatic decrease in OSHA-recordable incidents, defined as any injury requiring more than first aid, came about due to a shift in mindset and corporate culture. Veteran employees worked cooperatively to help newer workers understand that most accidents are preventable. According to Kathy Johnson, Human Resources Manager, veteran employees devised methods to reduce accidents, provided training, and made safety a reality on the production line.
"I am extremely proud of the entire team at our Ogden manufacturing facility," said Corey Schultz, Plant Manager. "A significant percentage of the workforce was new to the business, and the veterans looked out for their safety and helped them avoid dangerous or compromising situations where someone might be injured. Our employees have ownership and pride in what they do, which says a lot about the company and who works here."
Press Contacts:
Paula Kirtley 617.367.0100 ext. 118 paula.kirtley(at)mgr1(dot)com
About Cerro Wire LLC
Cerro Wire LLC, a leading manufacturer of copper electrical building wire and cable, supplies its products to wholesale electrical distributors and retail home improvement centers across North America. Cerro Wire's Electrical Distribution Division offers building wire for residential, commercial and industrial use. Our operating philosophy focuses on customer service, low cost operations, simplification and innovation. Our employees operate manufacturing and distribution facilities around the United States. Cerro Wire is a Marmon Wire & Cable/Berkshire Hathaway company. Please visit our website at http://www.cerrowire.com for a complete description of our products and services.
To get the latest industry news and updates, follow us on LinkedIn and Twitter. For more information, please contact Dale Crawford at 256-773-2522, or via email at dcrawford(at)cerrowire(dot)com.
# # #