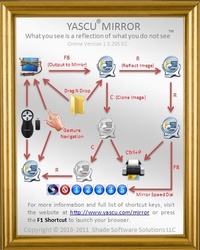 Our strategy for Yascu 411 was to create something simple, useful and relevant for everyone that would require zero installation, zero configuration, and zero effort
Lake Worth, FL (PRWEB) April 11, 2011
Shade Software Solutions today announced the pilot release of their data service Yascu 411. The company developed and has been using this service internally for quite some time, and is now making it available to the public. This pilot release is to help get community feedback in order to tweak the official product for future release. To celebrate the pilot release, the company is giving away prizes to promote Yascu® & Yascu Mirror with lucky winners receiving either a free 32GB Apple iPad 2 3G or an ASUS® Eee Slate EP121 - the new Eee Slate with Windows® 7 and accessories. For more information visit the website at: http://www.yascu.com/catpromo.
Yascu® 411 improves awareness of current events as they unfold in various parts of the world including the United States, Canada, United Kingdom, India, Japan, China, Jamaica, and other regions with little or no effort involved. This data service is a free add-on to Yascu®, a 100 kilobyte zero installation screen capture and content presentation tool. Yascu 411 is powered by Yascu Mirror, a 100 KB zero installation presentation tool. Yascu Mirror is a unique application that allows users to reflect and compare screenshots and image content side-by-side on the Windows ® desktop, thereby increasing productivity by multi-tasking, while facilitating training and demonstrations without the hassle of always constructing PowerPoint presentations. Designed and optimized for size, speed, and simplicity, both applications work in tandem and support wireless presenter remote and tablet PC gestures to navigate screenshots. They can also be integrated into business workflows to reduce paper and printing costs, improve tech support, and document processes visually. "Our strategy for Yascu 411 was to create something simple, useful and relevant for everyone that would require zero installation, zero configuration, and zero effort", said a company representative.
Released to the public in the summer of 2009, Yascu received a registered trademark later that same year and is also protected with a VeriSign digital signature. Yascu has garnered five star ratings from a number of software download sites, including five cows from Tucows International.
Shade Software Solutions is a software development and consulting company that specializes in data management and financial systems integration. A Microsoft® Gold Certified ISV Partner, Shade Software has published various business applications—including Shade DX, Yascu, Yascu Mirror, and Yascu Mail.
The Shade, Shade DX, and Yascu name and logos are trademarks or registered trademarks of Shade Software Solutions LLC. All product and company names herein may be trademarks of their registered owners.
###