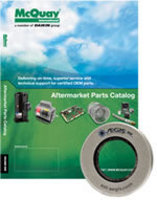 Mechanic Falls, ME (PRWEB) April 9, 2011
Electro Static Technology (EST), manufacturer of the patented AEGIS™ Bearing Protection Ring, is pleased to announce McQuay Parts, an HVAC manufacturer, is adding the AEGIS™ Bearing Protection Rings to their current product portfolio. McQuay's "Go Green" goals of energy-efficient and cost-saving upgrades and retrofits is a great fit with the AEGIS™ SGR product line. McQuay distributors can now provide packaged system solutions that include a Variable Frequency Drive, motor, and bearing protection ring.
McQuay is the first national HVAC manufacturer to sell the AEGIS™ line through their parts catalog and offers incredible reach to contractors and end users through McQuay Parts distributors from coast-to-coast. To ensure all distributors are well-versed and comfortable with this product line, McQuay and EST-ITW completed a series of Webinars in the Fall of 2010. In March 2011, EST was invited to the national McQuay Parts Distributor Meeting and Tradeshow in Minneapolis. There were 150 attendees including McQuay distributors and McQuay Sales. AEGIS™ presented a live demonstration of a motor/drive system with and without AEGIS™ followed up by a comprehensive presentation. The McQuay team is ready and eager to share this knowledge with their customers.
When AC motors are controlled by variable frequency drives (VFD), electrical currents are induced on the motor shaft. With no grounding device to divert these harmful currents, they discharge through the motor's bearings causing fusion craters, fluting and pitting which leads to excessive noise, premature motor failure, costly repairs and downtime. By specifying and installing AEGIS™ SGR Bearing Protection Ring, shaft currents are safely channeled away from the bearings and through the AEGIS™ ring to ground.
Electro Static Technology is the global leader in the elimination of induced electrical charges on rotating and moving surfaces. EST is a division of Illinois Tool Works (ITW), a $16 billion diversified manufacturing company operating worldwide. AEGIS™ SGR is available in standard sizes to fit any AC motor shaft. Detailed technical information is available at http://www.est-aegis.com.
For more information, contact: Adam Willwerth, Sales and Marketing Manager, Electro Static Technology, 31 Winterbrook Road, Mechanic Falls, ME 04256, Toll-Free: 1-866-738-1857, TEL: (207) 998-5140, FAX: (207) 998-5143, http://www.est-aegis.com.
# # #