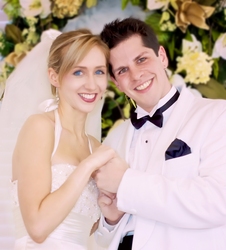 At "Tony 'n' Tina's Wedding" you're more than a member of the audience -- you're part of "la famiglia"!
(PRWEB) April 9, 2011
"That's amore!" as Dean Martin sang in his distinctive style. Amore is what Tony 'n' Tina's Wedding is all about – being part of a large, loud, loving Italian family. It's also about an Omaha audience who have fallen in love with the crazy characters in the show since 1997. Dutch Haling and Stacy Maddux bring back Omaha's favorite interactive play, Tony 'n' Tina's Wedding to the Millard Plaza Ballroom for a limited run opening April 8.
"The response to Tony 'n' Tina's Wedding is incredible," said Stacy Maddux, Co-Producer and actor, "We've had guests come back 3, 4 or 5 times asking to sit in a different area of the reception hall so they can find out what the characters are doing on that side of the hall. The show happens everywhere including the restrooms and outside."
Just like a real wedding, audience members are guests of either the bride's family, the Vitale's, or the groom's, the Nunzio's. Father Mark from "St. Lucy's, Our Lady of Perpetual Pain", performs the ceremony which is disturbed by Tina's ex-boyfriend. From there, Tony and Tina's plans for a beautiful wedding day go downhill. By the end of the show, not one, but two, people wind up dancing on tabletops, guns have been fired, unexpected passionate kisses have been exchanged and other moments of love, hate and laughter have been shared. The audience enjoys a hilarious ceremony in the "chapel" then move to the "Pompeii Gardens" reception hall. A spaghetti dinner, dancing and sappy, heart-felt toasts to the bride and groom leave the audience feeling part of "la famiglia."
"After 1,500 performances and working with almost 100 actors, we've learned what creates this separate reality that is Tony 'n' Tina's Wedding', said Dutch Haling, Co-Producer, director and actor. "Every cast is different. We are lucky to have a strong core of actors who are experienced in the show along side new members of the bridal party that are really funny."
Maddux and Haling opened Tony 'n' Tina's Wedding following an extended run at the Omaha Community Playhouse in 1997 where Haling played Anthony Angelo Nunzio, Sr. The duo presented Tony 'n' Tina's Wedding interspersed with original interactive shows from 1997 until 2003. In 2006, they moved to California where Haling enjoyed a successful career in commercials and film. Upon returning to Omaha in December 2010, the Millard Plaza Ballroom and Bad Dog Productions, LLC, began preparing the production.
Over the years, several actors who been part of the Tony 'n' Tina's Wedding cast have said "I do" to each other during real wedding ceremonies. Five marriages and at least a dozen children have come about because of relationships sparked during the run of the show.
The original "Tony" and "Tina" from the 1997 production of show, Meredith Spiegelman-McAdams and Bryan Adams met at auditions and will welcome their third child in May. "I'll never forget the smile on Bryan's face when after we offered Meredith the role," laughed Stacy Maddux, Co-Producer and actor.
"No one, not even me, knew what was ahead for us!" says Kay McGuigan, "Tina" in the holiday 1998 production when asked about meeting her husband, Ryan, at the first rehearsal. She says, "The heart wants what the heart wants." The McGuigan's now have four children under the age of four. In the production, Ryan played "Joey", Tina's brother.
In a slight switch, "Tony" and "Tina" in the 2002/2003 run, Cameron and Chrissie Van Cleave had just become engaged. They now live in Los Angeles with their daughter, Kayleigh. At least three other marriages have been a result of cast members falling in love or cast members finding the "right one" amongst the thousands of people who attend the show in a given run.
Tony 'n' Tina's Wedding opens April 8th and runs selected dates until July 3. April performances will be on the 8th, 9th, 17th, 22nd, 24th and 29th. May performances will be on 1st, 8th, 14th, 15th, 20th and 22nd. June performances will be on the 2nd 5th, 9th (benefit performance for the Cahill Family Fund), 10th, 12th, 17th, 19th, 24th and 26th. July performances on the 1st, 2nd and 3rd. Sunday performances begin at 6 pm, all other start at 7 pm.
Tickets for Tony 'n' Tina's Wedding are $55 per person, plus tax, and include show and a dinner of spaghetti with meat sauce, Italian salad, breadsticks and wedding cake. VIP tickets will make you a "made man" for $85 per person, plus tax. As a "made man", you will be seated near the families in the front row of both the ceremony and reception. VIP's also receive an antipasto platter, a carafe of wine, front of the line privileges for the "buffet of love" and a photo with cast members as a memento. VIP seating is limited. Discounts of $5 per person are available for groups of 8 or more and guest's ages 55 or better. Discounts cannot be applied to VIP tickets. Performances are held at the Millard Plaza Ballroom, 5339 S 139th Plaza. For more information and reservations, visit http://www.tonytinasomaha.com or call (402)614-2005.
# # #