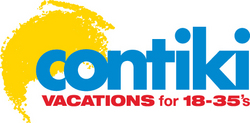 "It's an honor to be recognized for something we enjoy doing and are passionate about as a company." - Kelly Kroona, Groups Manager at Contiki and Board Member at the Boys and Girls Clubs of Anaheim
Anaheim, Calif. (PRWEB) April 8, 2011
Contiki Vacations, the leader in fun travel packages for 18-35 year olds, will receive recognition from the Boys and Girls Club of Anaheim at their annual gala event "Decade of Dedication." The event commemorates 10 years of service to youth in the Motel Kids Outreach Program. The program provides at-risk, homeless children sheltered in motels or low-income housing and children placed in foster care, access to services and youth development programs, ensuring no child is ever turned away due to inability to pay the club dues. The club will honor Contiki, a $10,000 Gold Sponsor of the event, for initiating the 'Corporate Volunteer Play Date" program. Other honorees include the Disneyland Resort, Brookfield Homes, the Los Angeles Angels of Anaheim owner Arte Moreno, former Anaheim Mayor Curt Pringle, and Bruno Serato of Caterina's Girl Club.
The "Corporate Volunteer Play Date" program launched in 2005 when 63 Contiki employees and friends organized a team-building activity at the Boys and Girls Club, which consisted of interacting and playing with the children who attend the club. Given the success of Contiki's original play date, many other locally-based organizations began to organize play dates as to foster team building among employees, promote volunteerism, and make a difference in a child's life. Companies involved include the Disneyland Resort, Angels Baseball, Pacific Sun, and Microsoft.
"Our team always has a fantastic time on our Play Dates. After spending one-on-one time with the kids at the Club, no one wants to leave. We go to the Club to give back to our community and I think our team gets as much, if not more, out of the experience as the kids," says Kelly Kroona, Groups Manager at Contiki and Board Member at the Boys and Girls Clubs of Anaheim. "It's an honor to be recognized for something we enjoy doing and are passionate about as a company."
The event will be held on Saturday, April 9, 2011, at the Grand Californian Hotel at the Disneyland Resort in Anaheim.
About Contiki
Contiki has helped students and young professionals travel to the world's most fantastic destinations for over 45 years. The trips are hassle-free and include the perfect mix of sightseeing, culture and free time. Choose from over 190 itineraries throughout Europe, Russia, Egypt, Southeast Asia, Australia, New Zealand, Mexico, Canada & the USA. For more information, visit http://www.contiki.com.
About the Boys & Girls Clubs of Anaheim
The Boys & Girls Clubs of Anaheim is a 501(c)3 nonprofit organization serving children ages 5-18, primarily from disadvantaged circumstances. Known as "The Positive Place for Kids," guidance-oriented character development programs are provided daily across five club sites by trained, professional staff. The mission of the Boys & Girls Clubs of Anaheim is to inspire and enable all young people, especially those from disadvantaged circumstances, to realize their full potential as productive, responsible, healthy and caring citizens. Through our programs we have seen many lives changed for the better. For more information about the organization, visit http://www.theboysandgirlsclub.org.
# # #