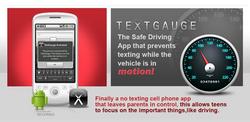 TextGauge was designed to keep people safe on the road by preventing Text, Gchat, and Email usage while driving. We are releasing this for free to help save lives
Harrisonburg, VA (PRWEB) April 12, 2011
In conjunction with the arrival of National Distracted Driving Awareness Month, Vision Studios, a Virginia Web Design and full service media firm and application development company in Harrisonburg, Virginia has launched their safe driver mobile app. The free app, called TextGauge, is aimed at curbing the deadly habit of texting while driving. This new smart phone application was designed specifically for teen drivers and their concerned parents since teens are the largest demographic of cell phone users in the United States, accounting for the majority of the one trillion texts sent per year. As this number continues to grow, so does the urgency parents feel to safeguard their children from the dangers of distracted driving.
TextGauge can be downloaded at no cost through the Android marketplace by searching "text gauge". Vision Studios CEO Mike Vanderpool felt compelled to provide the app to users for free, believing in its ability to prevent future accidents. The unique mobile application runs in the background, never slowing or bogging down the mobile phone or disrupting normal everyday usage. TextGauge becomes engaged when it senses the phone is in motion, at speeds above 2 mph. Once the application is activated, it disables the phone's text, GChat and GMail capabilities, leaving the driver only one option, to concentrate on driving.
Efforts to end texting and driving have not eliminated the problem. State laws banning the practice have not been completely successful and pledge programs still can't change the behavior of drivers who don't believe a crash will happen to them. TextGauge, designed for parents to put on their teen driver's phone, also serves as a great application for employers to put on their employee's company provided phones to reduce the possibility of accidents, keeping their employees safe and their insurance rates down.
Eliminating texting while driving is a national priority. Considering how many resources are put behind efforts to prevent drinking and driving, most are shocked to learn that a driver is 8 times more likely to get into an accident when texting while driving and only 4 times more likely to get into an accident when drinking and driving. Furthermore, 34 percent of teen drivers already admit to text messaging while driving.
Vision Studios is hoping to garner funding from interested parties who also believe in the cause so that they can incorporate additional features in the coming months, including a reporting mechanism that alerts a parent if their child disables or stops using the application. These advancements allow for more parental control over a child's phone to include real time reporting that informs parents about their child's driving habits. TextGauge is currently available for users of Android enabled phones and Vision Studios is eager to begin work on developing the tool for IPhone users as well.
Vision Studio's CEO, Mike Vanderpool, is excited about the launch of this application, saying "Both of my companies strive to provide technological solutions to combat social issues." Last year Mike's company, ValleyApps, launched their "We Want Google" campaign with the goal of providing free Google Apps to schools in Virginia. Vanderpool continues, "If a piece of our technology can help save just one life, that is worth all the hard work and resources we have put into this project."
Any organizations, businesses or celebrities interested in sponsoring, endorsing, licensing or providing general funding for TextGauge, should contact textgauge(at)visionstudiosdesign(dot)com or call 540.746.7009.
About Vision Studios
Mike Vanderpool, CEO of Vision Studios also owns ValleyApps, a cloud computing solutions company that specializes in Google Apps for business. Vision Studios, founded in 2005, continues to provide clients with cutting edge website design and development, as well as services like SEO, SEM, social media marketing and mobile app development. With an extensive client list of both local businesses and national organizations, Vision Studios is steadily expanding and helping businesses get the most out of the Internet era.
Media Contact:
Contact: Cory Vanderpool
Tel: 540-209-0951
Email: cory(at)visionstudiosdesign(dot)com
Website: http://www.visionstudiosdesign.com
Website: http://textgauge.com/
###