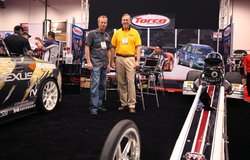 We are building a winning team and we sell the best race fuels on the market.
Scottsdale, AZ (PRWEB) April 8, 2011
While the U.S. economy is facing serious challenges, Torco Race Fuels of Arizona is experiencing strong growth and the most successful month in its history. Torco Race Fuels has been high profile at both the SEMA Show in Las Vegas and the PRI Show in Orlando. They have launched new products and have been systematically expanding their team of distributors throughout the United States and Canada.
Larry Manross, Sales Vice President of Torco, says "We are building a winning team and we sell the best race fuels on the market." Over the past nine months Torco has more than doubled its distributor network in the U.S. and Canada to 138 and continues to add new, qualified distributors.
Torco Race Fuels owner and racer, Dana "Pappy" Feather, states "Our goal is to provide the best service and to make Torco Race Fuels easily accessible for both professional and sportsman racers."
Torco's wide product line includes Torco Race Fuels for cars, trucks, speedboats, snowmobiles, and quads; a popular race fuel concentrate called Torco Accelerator; the iconic Torco High Performance Oils; and a complete line of Torco RC Nitro Race Fuels for cars, trucks, helicopters, and planes. Torco is showing nice growth in all areas.
Torco's new 8 oz. can of Torco UL Accelerator has also proven to be a big hit with racers of motorcycles, quads and snowmobiles. It is handy, portable, economical and easily carried in a saddlebag.
Join with racers around the globe and select Torco Race Fuels, "The Choice of Champions".
Visit us on FaceBook at Torco Race Fuels and Torco RC Nitro.
Visit our websites: http://www.torcoracefuel.net and http://www.torconitro.com
# # #