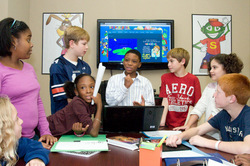 Skid-e-kids is committed to providing a very safe, Fun and educational network for kids all over the world.
Atlanta, Ga (PRWeb UK) April 7, 2011
Skid-e-Kids Networks (http://www.skid-e-kids.com) is raising the bar in social network for kids, by introducing a very unique feature that puts the remote control in the hands of parents. This feature is called 'track my kid. It will essentially allow parents to see everything going on in the kid's dashboard, including contents and friend request.
"We hit upon the idea that most parents, who reluctantly allowed kids to join Facebook and other social media, find themselves locked out of the kid's profile," says Mickel Godwin, founder of skid-e-kids.
We strongly feel that for Skidekids to be a place where kids could benefit from a social community strengthened by parents and teachers, it must also be a place where parents and teachers would want to spend time.
The new website is designed not only with parents in mind, but also similar to Facebook. Kids would have the same experience of Facebook, without actually being on Facebook. They can invite friends and classmates, play games, watch movies, share pictures, upload videos and many more.
Skid-e-Kids also offer fun educational activities, like articles for parents, video tutorials, and question & answer page. Members can post questions on any subject and get answers from other members, or from one of the so called Skid-e- teachers.
With these types of initiatives, Skid-e-Kids is quickly becoming the ultimate safe and fun playground for kids and parents all over the world – http://www.skidekids.com. Thanks to input from kids and parents themselves. Skid-e-Kids is fun, safe and very educational.
"We are very excited to provide a fun and safe place where kids can learn and interact with each other. We hope that parents all over the world will check out the site and see for themselves what Skidekids is all about," says Godwin.
To learn more about the Skid-e-Kids Network and its initiatives, visit http://www.skid-e-kids.com.
###