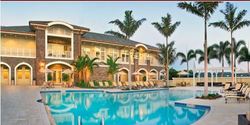 We also have a beautiful facility, with a new clubhouse under construction, and our golf course has some of the best 27 holes in South Florida.
Boca Raton, FL (PRWEB) April 8, 2011
Members at Delaire County Club in Delray Beach already know about the Club's best kept golfing secret: the ability to walk onto the golf course—any time—and play, no tee time required.
But that secret is just one of the innovative features that make up "the Delaire Difference."
"Our professional staff here is exceptional, and we offer creative opportunities to learn," says Annette "Babe" DeLuca, an assistant professional at Delaire, who joined the golfing program in September 2010. "We also have a beautiful facility, with a new clubhouse under construction, and our golf course has some of the best 27 holes in South Florida."
DeLuca has been a member of the LPGA Tour for the past 15 years and is a Class A member of the LPGA Teaching and Club Professional (T&CP) Division.
Prior to joining Delaire, DeLuca was the Adult Golf Coordinator at the John Prince Golf Learning Center in Lake Worth for three years. She also taught at the Boca Raton Resort and Spa from 2005 through 2007, where she was a lead golf instructor for the ESPN Golf Schools.
A native of Palm Beach Gardens, DeLuca now resides in Tequesta. "I drive 45 minutes to work every day because I love coming to Delaire," she says. "The membership is great."
Since arriving at Delaire, DeLuca has been instrumental in adding new programs and fresh ideas to an already comprehensive golf program. There are now men's and women's "theme clinics"; a "Rising Star League" for ladies who are learning and prefer to play in a non-competitive atmosphere; skills challenges, complete with prizes; and free clinics three times per month. These new programs are in addition to private lessons, tournaments, social events, night golf and a full-service pro shop featuring the latest clothing and equipment, expert club fitters and competitive pricing.
DeLuca works with seasoned assistant pro Bill Jones under Joe Jones, Delaire's Head Golf Professional, who has been at the Club for 23 years. Joe Jones can sum up the golf experience at Delaire Country Club in just a few words. "We have an extraordinary golf program here," he says proudly.
Indeed, with three, nine-hole championship golf courses designed by Joe Lee—along with undulating fairways, lush landscapes and manicured greens—Delaire really has something for everyone. And with the Club's unique "One Up/Two Down" policy, parents, children and grandchildren of members can enjoy the facilities as well.
"Our golf course never sleeps," says Jones.
About Delaire Country Club
Delaire Country Club is a private community of 326 single-family homes located on Military Trail along the Boca Raton-Delray Beach line. Delaire offers a first-class, casually elegant country club experience, featuring a 27-hole Joe Lee championship golf course with walk-on golf (no tee times), a full-service tennis facility with eight Har-Tru courts and world-class dining. The community recently opened a new state-of-the-art Fitness and Tennis Center, with the latest in equipment and technology as well as Certified Fitness Trainers. Delaire is also in the process of building a new Clubhouse with the utmost in amenities, from a lavish dining room to a lounge, card rooms and meeting facilities. To learn more about the unique lifestyle offered at Delaire Country Club, contact Liz Shaw, executive coordinator, at 561-499-9090 or visit http://www.Delaire.org.
# # #