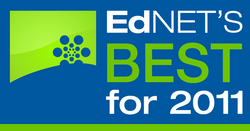 "These finalists represent the skilled leadership inherent in the education marketplace and are models for leadership to advance education and build value for their organizations and guide talent growth of staff"
Shelton, CT (PRWEB) April 8, 2011
MDR, with support from Educational Systemics, announces the education market leaders who are the finalists in EdNET's Best "Leaders to Watch" category. The EdNET's Best peer recognition program recognizes leaders and innovations in today's education marketplace. Finalists selected in the "Leaders to Watch" category represent the top business professionals seen as making a significant impact in the education industry. Nominees were selected by the EdNET community at large and narrowed down by the EdNET's Best panelists.
Members of the EdNET community will now select the top five "Leaders to Watch." The EdNET community includes subscribers to the free, weekly EdNET News Alert; business leaders who attend the annual EdNET Conference; subscribers to EdNET Insight, MDR's new market intelligence and decision support research service; and MDR customers. Voting closes on April 22 at 5 PM PDT, and the top five EdNET's Best will be announced on May 25 in a special edition of EdNET News Alert and via social media, including EdNETBiz on Twitter and EdNET Community on Facebook and LinkedIn. The top five leaders will also be recognized at the 2011 EdNET Conference, September 25-27 in Denver, Colorado.
The EdNET's Best "Leaders to Watch" Finalists:
Berj Akian, Founder/CEO, ClassLink Technologies
Mark Atkinson, Founder & Chief Strategist, Teachscape
Larry Berger, Chief Executive Officer and Co-Founder, Wireless Generation
Todd Brekhus, President, Capstone Digital
Ntiedo (NT) Etuk, CEO and Co-Founder, Tabula Digita
Nick Gaehde, President and CEO, Lexia Learning
Adrian Hall, Global Business Development Director, Manic Monkey Ltd.
Paige Johnson, Worldwide Manager, K-12 Education, Intel
Salman Khan, Founder and Executive Director, Khan Academy
Ken Kay, CEO, EdLeader21
Tom Murdock, Founder and Chief Architect, Moodlerooms
Mark Nieker, President, Pearson Foundation
Alan C. November, Senior Partner, November Learning
Kevin Pawsey, CEO, RM Education
Scott Traylor, Chief KID, 360KID
Jessie Woolley-Wilson, CEO & President, DreamBox Learning
"These finalists represent the skilled leadership inherent in the education marketplace and are models for leadership to advance education and build value for their organizations and guide talent growth of staff," said Dr. Nelson Heller, President of EdNET, MDR. "These individuals are stellar examples of the talent present in the education industry, and we're proud to have this opportunity to recognize the best of the best in our field."
About EdNET
EdNET, the education business network brings recognized industry experts, education business executives, and school leaders together to share insight, explore trends, find opportunities, and build partnerships. The EdNET offerings include EdNET Insight, the decision support service; the EdNET Conference, the "must-attend" education event for leaders in the education market; and the EdNET News Alert, the free weekly e-newsletter, all owned and operated by MDR.
About MDR
For more than 40 years, MDR has been the market's first choice for marketing information and services for the K-12, higher education, library, early childhood, and related education markets. Powered by the most complete, current, and accurate education databases available in the industry, MDR provides email contacts and deployment, direct mail lists, sales contact and lead solutions, along with social media marketing services and the EdNET community. For more information, call 800.333.8802 or visit http://www.schooldata.com.
# # #