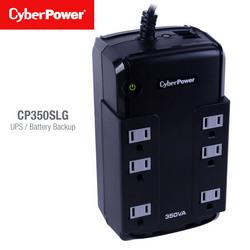 This new ultra-compact UPS packs a lot of protection into a smaller space, making it perfect for home or small office use
Minneapolis, MN (PRWEB) April 8, 2011
CyberPower Systems, the global leader of innovative power protection and distribution equipment, today announced the addition of its CP350SLG Standby Series uninterruptible power supply (UPS). It safeguards PCs, personal electronics, POS equipment and security / surveillance systems from blackouts, brownouts, surges, spikes, sags, and other power abnormalities. Advanced lightning protection is attained with composite integrated circuitry. The CP350SLG UPS has a capacity of 350VA/255Watts with six NEMA 5-15R receptacles, including two widely-spaced outlets to accommodate transformer-based plugs. Protection for phone/network (RJ11) is also provided.
"This new ultra-compact UPS packs a lot of protection into a smaller space, making it perfect for home or small office use," said Tim Derochie, CyberPower's Director of Product Management. "And it has our patented energy-saving GreenPower UPS™ technology which effectively reduces UPS energy costs by up to 75% and minimizes a customer's overall power bill."
This CyberPower Standby Series UPS includes a three-year warranty ensuring it has passed the highest quality standards in design, assembly, material or workmanship. CyberPower offers further protection with its $75,000 connected equipment guarantee.
CyberPower UPS units are ETL certified and 100 percent RoHS compliant. RoHS aims to improve environmental conditions worldwide by strictly limiting the use of six hazardous substances: lead, mercury, cadmium, hexavalent chromium, polybrominated biphenyls (PBBs) and polybrominated diphenyl ether (PBDE) CyberPower manufactures an extensive line of environmentally-friendly, RoHS-compliant power protection products.
See the full line of UPS models from CyberPower Systems at: http://www.cpsww.com/ups
CyberPower Systems, Inc. designs and manufactures state-of-the-art power protection and distribution equipment for corporate, business, home, government and educational markets. CyberPower Systems leads the industry by surpassing customer expectations in the development, design, construction, durability and functionality of power protection and power distribution products; including uninterruptible power supply (UPS) units, Surge protectors, PDUs, inverters and more for SOHO, SMB and Enterprise customers. CyberPower Systems operates in the Asian Pacific, North American, and European markets.
For additional information, including sales office locations and authorized reseller partners, visit http://www.cpsww.com.
Media Contact:
Jonah Cagley
Director of Marketing
# # #