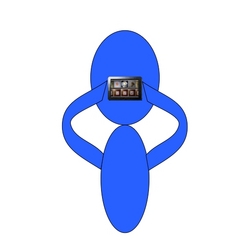 MyVoice really opened up a whole new world for my daughter.
(PRWEB) April 8, 2011
They say necessity is the mother of invention. Developed by a father frustrated with the difficulty of using existing solutions with his non-verbal, low-cognitive daughter as a birthday gift for her, MyVoice, a new app, turns any Android or iOS device into an instant AAC (augmentative and assistive communication) device. The power of MyVoice lies in it's simplicity. It presents the user with a digital picture board from which they can select items they need or things they want to do. Once they select an item, the device will either play a message that the person who set it up recorded, or just read the name of the item. The pictures all come from the child's environment so the child doesn't have to be able to connect an abstract icon to an item or activity and no item is ever more than 2 taps away. MyVoice also does not require a great deal of fine motor control so children with CP and other disorders that affect motor control and speech can also benefit from it. MyVoice isn't just easy for children to use, but also for the people configuring it. Customizing MyVoice by adding or editing an item or category takes mere seconds.
The developer was quoted as saying "MyVoice really opened up a whole new world for my daughter. Initially she would just point at things and get frustrated that we couldn't understand her. Now, she'll go get MyVoice on her own so she can express her needs. After a few weeks of using the device she even started saying some of the phrases before tapping the pictures. We believe that this is a result of MyVoice repeating the phrases in the exact same way every time."
A special education teacher who was given MyVoice to use was quoted as saying "I have been teaching children with limited or no speech for nearly 15 years. I have a nonverbal grandson. I have recently started using "MyVoice" with a functionally nonverbal student. The student not only maneuvers the program easily but has started to repeat the phases in the program. I set the program up for my Grandson over spring break. He was using it consistently in less then 2 days. I have tried several other programs, some so expensive that they were not feasible for my students and their parents. MyVoice is: affordable, user friendly, easy to sit up and more importantly easy for the children to use. I plan to continue using the program with my students and my Grandson. I am so convinced that it suits his needs so well, that I purchased the Galaxy Pad and downloaded MyVoice to it. I also have MyVoice on my phone. We never leave home without it."
As a parent of a child with special needs, the developer of MyVoice feels very passionately about helping the special needs community. That's why part of the proceeds of every sale of MyVoice are donated to charities that help kids with communication related disabilities.
In honor of Autism Awareness Month and to celebrate it's mass release, MyVoice is currently available on both the Android Market and the iTunes AppStore at a reduced price. There is also a 30 day free trial (only for Android devices) available from the developers website.
For more information please visit http://www.discovermyvoice.com.
###