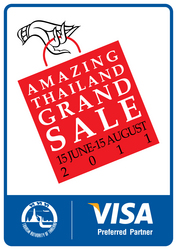 New York, NY (PRWEB) April 10, 2011
Tourism Authority of Thailand (TAT) cooperating with VISA credit card providers and tourism entrepreneurs are delighted to present "Amazing Thailand Grand Sale 2011" which will be held from June 15th to August 15th, 2011. The website will highlight information of the event, tourist attractions, spas, accommodation, and restaurants in seven participating provinces which are: Bangkok, Chiang Mai, Pattaya, Hua Hin, Samui, Phuket, and Had Yai. Tourists can enjoy discounts from participating stores in:
1. Fashion
2. Thai Handicraft
3. OTOP
4. Duty Free
5. Shopping
6. Dining
7. Entertainment
8. Accommodation/ Hotels
9. Beauty
10. Golf
11. Jewelry
12. Hospital/ Medical
13. Thai Handicrafts
14. Airline
15. Online Travel
16. Transportation
Also tourists can search for information about booking accommodation or air tickets and privileges of Suvarnabhumi airport. Those valued customers using a credit card for purchases will attract numerous rewards. Thai tourists have a chance to win a 1,000,000 baht prize and a "30 Days Experience Thailand" program will be offered to foreign tourists. To find out more go to
http://www.tourismthailand.org/thailandgrandsale/
The Amazing Thailand Grand Sale 2011 website is online now.
###