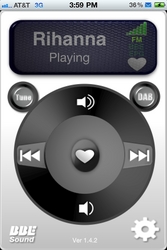 Hsinchu, Taiwan (PRWEB) April 10, 2011
KeyStone Semiconductor Corp.(KeyStone), a leading fabless semiconductor developer of advanced digital radio technologies announced today that it has introduced another new app, KeyStone, now available for free download at iTunes and at Android market. KeyStone app enables interactive wireless connections between Apple or Android devices and KeyStone's "BigFish" modules.
BigFish module is KeyStone's patent-pending wireless radio module that includes KeyStone's FM/DAB/DAB+/DMB-R single-chip receiver, Tsunami, and a Bluetooth transceiver. BigFish employs Tsunami chips to receive and to decode radio signal while using Bluetooth to transmit data such as station information, slide show, Electronic Program Guide (EPG), etc. to users' Apple or Android phones.
KeyStone app conveniently provides intuitive graphic user interface for users to flip channels, change volume, label favorite stations, watch live color slide show, EPG, etc. from their smart phones. Moreover, KeyStone integrates a free internet radio and MP3 play list on the app to allow users to wirelessly stream music from their smart phones to BigFish speakers. With KeyStone's app-enhanced turn-key solutions, people can enjoy listening to live FM, DAB, DAB+, DMB-R radio, watching slide show and EPG, or streaming internet radio or MP3 from Apple or Android devices to BigFish speakers. Needless to say, this novel wireless interactive radio technology eliminates expensive DSP-based internet radio modules, high-cost touch-panels, and excessive buttons on radio and multimedia systems.
KeyStone app seamlessly works with KeyStone Semiconductor's single-chip Tsunami series such as KSW8080, KSW8290, and KSW8650. With BigFish modules and KeyStone app, audio makers are able to turn regular speakers into wireless FM/DAB/DAB+/DMB-R/Internet radio/MP3 multimedia systems at lowest possible cost. A brief video demo is available at YouTube and live demo will be arranged at KeyStone's private suite located in Renaissance Harbour View Hotel Hong Kong from April 13 to April 16 2011. Please contact sales(at)keystonesemi(dot)com for a demo appointment.
About KeyStone
KeyStone Semiconductor Corp. is a technical innovator and leader in wireless digital radio semiconductor. KeyStone products enable the delivery of the enriched analog and digital multimedia contents to home and mobile environments. We provide the industry with low-cost system-on-a-chip and turn-key solutions to manufacturers of analog and digital broadcasting access products and portable devices.
KeyStone is headquartered in the Science-Based Industrial Park, Taiwan, and has offices and facilities in North America and in China. KeyStone can be contacted at +886.3.666.2756 or at contact(at)keystonesemi(dot)com.
Press Inquiries:
KeyStone Semiconductor Corp.
2nd Floor 62 Park Avenue 2,
Science-Based Industrial Park,
Hsinchu, Taiwan 300
Office: +886-3-666-2756
Fax: +886-3-666-2758
Email: Contact(at)KeyStonesemi(dot)com
Web: http://www.KeyStonesemi.com
###