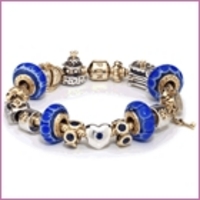 The limited edition Pandora Royal Wedding Bead is expected to be a hugely popular bestseller and can be ordered now from the Jewel Hut.
(PRWeb UK) April 11, 2011
The Jewel Hut is celebrating the impending Royal Wedding by offering its customers the chance to purchase a unique Pandora charm, available for a limited time only on the popular jewellery website.
As previously announced, the Pandora Royal Wedding Bead (product no. 790875SSB) was made available for dispatch from 1 April.
The limited edition heart-shaped charm has been specially designed to commemorate the nuptials of Prince William and wife-to-be Catherine Middleton, which will take place on 29 April – giving Pandora jewellery fans plenty of time to add it to their bracelet before the big day.
This most precious of Pandora beads is hand finished in sterling silver, and features a blue spinel setting on the front of the heart, which symbolises the blue sapphire on Ms Middleton's engagement ring. Meanwhile, the back of the heart features the engraved initials of the happy couple as a permanent reminder of their commitment to each other.
With the Royal Wedding expected to be the public event of the year and a historic day on both a domestic and international scale, this special Pandora charm is expected to be a hugely popular bestseller.
The Jewel Hut has already received a number of orders for this product and, although the charm will be available from April to October 2011 according to royal protocol, we may sell out of our allocation before then – so don't be too late!
The Pandora Royal Wedding Bead is priced at £45, and can be ordered now from the Jewel Hut, an authorised dealer of Pandora jewellery.
To view the complete collection of Pandora charms, please visit http://www.thejewelhut.co.uk.
###