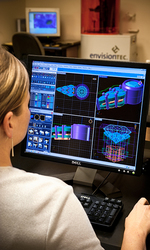 Jewel-Craft, Inc. is a one-stop shop for retail jewelers and trade shops nationwide.
Erlanger, KY (PRWEB) April 11, 2011 —
To help independent retail jewelers' customers create the custom jewelry design of their dreams—from modern to traditional—Jewel-Craft, Inc. offers CAD/CAM (computer-aided design/computer-aided manufacturing) services. Further, the company has increased the size of its full-time CAD/CAM design staff for faster turnaround.
These custom design capabilities—combined with the company's full complement of manufacturing, repair and restoration services—make Jewel-Craft, Inc. a one-stop shop for retail jewelers and trade shops nationwide.
Using the most advanced CAD/CAM software, Jewel-Craft, Inc.'s expert design team translates a customer's idea into a realistic, full-color, 3-dimensional rendering of the piece. The rendering is promptly returned to the retail jeweler via e-mail to review with the customer for alterations and adjustments.
Upon approval of the design, Jewel-Craft, Inc. employs two different technologies to produce the wax, Revo Mill by Gemvision to mill the design and envisionTEC, a rapid prototype machine to grow waxes. Jewel Craft, Inc. also offers hand carving services for custom jewelry, allowing the customer to see a wax model of their design.
The wax is then cast in our state of the art casting facility with the choice of any of the following metal types: sterling silver, platinum, and 10K, 14K, and 18K gold. The cast piece is then prepped, set, and finished in-house.
Jewel-Craft, Inc. also offers CAD/CAM design services to create unique corporate and organizational signet recognition items, replicating logos, text and other graphics in exact proportions. The company does not require a minimum order amount, allowing individuals and companies to truly customize jewelry.
All of Jewel-Craft, Inc.'s services, including custom CAD/CAM designs, are available 52 weeks per year, allowing the company to provide expedited service to retail jewelry stores nationwide. The company employs designers, expert jewelers, setters, and finishers among their full staff of more than 120 employees.
About Jewel-Craft, Inc.
Headquartered in Erlanger, Kentucky, Jewel-Craft, Inc., is a full-service operation, providing comprehensive jewelry services to retail jewelry stores and trade shops nationwide. All stages of design, manufacturing, repair, and restoration are performed on the premises with speed and accuracy, year-round. Services include custom design of personal and corporate recognition items, tradework and restoration, stone setting, appraisals and an expansive stone inventory. For more information, visit http://www.jewel-craft.com or call (859) 282-2400 or toll free (800) 525-5482.
###