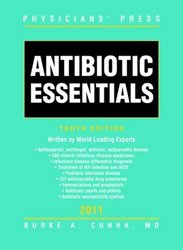 Sudbury, MA (PRWEB) April 11, 2011
Jones and Bartlett Learning is pleased to announce the publication of Antibiotic Essentials, Tenth Edition for 2011, edited by Burke A. Cunha, MD, MACP, Chief, Infectious Disease Division, Winthrop-University Hospital, Mineola, New York, Professor of Medicine, State University of New York School of Medicine, Stony Brook, New York.
Antibiotic Essentials, Tenth Edition has been completely revised and updated for 2011 and remains the BEST antimicrobial/infectious disease pocket guide for clinicians. The book's contributors are leading world experts in their fields from various distinguished institutions. Practical, concise and authoritative, Antibiotic Essentials is not just a bug - drug pocket guide, but is also a mini-ID book, discussing diagnosis and therapy of infectious diseases (including clinical presentations, diagnostic considerations, diagnostic pitfalls, and therapeutic considerations).
Antibiotic Essentials, Tenth Edition contains 568 clinical syndromes as well as 157 detailed antimicrobial drug summaries, including: dosing in renal insufficiency and dialysis; relevant pharmacokinetics; antibiotic resistance potential; adverse effects; drug interactions; CSF penetration and complete reference citations. All presented in a user friendly format and organized with an expanded, easy-to-use index.
Unique Features Include:

Clinical microbiology (including susceptibility profiles, and site-pathogen clinical correlations)
Initial empiric therapy (with easy to use treatment grids including IV to PO switch therapy)
HIV
Infections due to fungi, parasites, and unusual organisms
Antibiotic prophylaxis & immunizations
Pediatric Infectious Disease (ID)
Pneumonia CXR atlas
ID differential diagnosis (including infectious and non-infectious physical & lab findings)
If you only have room in your lab coat for only one antibiotic/ID book, there is no more clinically useful pocket guide than Antibiotic Essentials, Tenth Edition for 2011!
Editor Burke A. Cunha, M.D., MACP is one of the world's leading authorities on infectious diseases. During his career, he has contributed more than1150 articles, 175 book chapters, and 29 books on infectious diseases to the medical literature. He has received numerous teaching awards, and is a Master of the American College of Physicians, awarded for lifetime achievement as a master clinician and teacher of infectious diseases.
For more information on Antibiotic Essentials, including table of contents, online instructional video and related titles please visit us the Antibiotic Essentials 2011 online catalog page.
Jones & Bartlett Learning (http://www.jblearning.com)
Jones & Bartlett Learning is a world-leading provider of instructional, assessment and learning-performance management solutions for the secondary, post-secondary, and professional markets. We endeavor to develop educational programs and services that improve learning outcomes and enhance student achievement by uniquely combining authoritative content written by respected authors with innovative, proven and engaging technology applications that meet the diverse needs of today's instructors, students, and professionals. Across a broad spectrum of fields ranging from public safety to health professions, science, math and medicine, our educational technology applications and instructional assessment and performance-management solutions are revolutionizing how instructors teach, and how students and professionals learn.
###