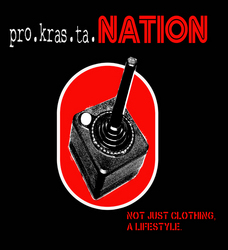 pro.kras.ta.NATION clothing: not just cloting, a lifestyle. Born on the couch and started in a basement, pro.kras.ta.NATION clothing has arrived. Owner Chad Kerkenbush from Dubuque, Iowa is branching out the business to include wholesale and retail.
Dubuque, IA (PRWEB) April 12, 2011
Pro. Kras.ta.NATION clothing has been selling apparel in the Midwest and the reception has been very exciting. The designs and the concept have really seemed to strike a cord with the public. With the explosion in popularity in alternative sports such as the X games and the endless amounts of gaming systems and social networks pro.kras.ta.NATION clothing seems to fit right in with the mindset of the X and Y generations.
Screen printed tees that are comfortable are always in fashion and now can be seen anywhere from the hottest club to the deli on the corner. Pro.kras.ta.NATION clothing expands on this trend and offers its designs on two styles of shirts. The classic cut is a bit more economical in price and is your basic 100% cotton t-shirt relaxed in fit and style. The fashion cut is a 60/40 blend of cotton and polyester with a soft texture and a slim cut for a more body shaping fit.
Pro.kras.ta.NATION clothing is now starting to expand its marketing and increase its exposure with hopes to go national within next year. Right now a website is in the works and sponsorship's for up and coming alternative sports stars. For a closure look at the company and its designs they have a store listed at http://www.esty.com/shop/prokrastanation.
Look for pro.kras.ta.NATION clothing in 2011 a new up and coming clothing company.
Thank you,
Chad Kerkenbush
Owner
pro.kras.ta.NATION clothing
###