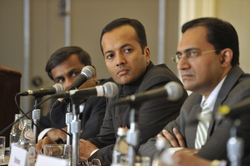 The forum is expected to serve as the platform for Indian leaders to envisage the next phase of India's journey to success while being mindful of potential roadblocks. - Economic Times
Philadelphia, PA (PRWEB) April 11, 2011
The student leadership committee of the Wharton India Economic Forum (WIEF) announced today that the 15th WIEF will be held at the Park Hyatt at the Bellevue Hotel in Philadelphia on April 22, 2011. The Wharton India Economic Forum is among the oldest and largest student run conferences focusing on Indian business and economy.
The committee invites the public to gain insights from some of the world's top business leaders including prominent speakers: Robert O. Blake, Jr. (Assistant Secretary, South and Central Asia Bureau, U.S Department of State), Varun Gandhi (Member of Parliament, Lok Sabha), Bunty Bohra (CEO Goldman Sachs India), Vinod Dham (Co-inventor of the Pentium Chip), Anoop Prakash (Managing Director, Harley-Davidson India), and C. P. Gurnani (CEO of Mahindra Satyam). Registration is available at http://www.whartonindia.com.
The theme for the conference is: "India: Gaining Momentum."
The conference will bring together leaders from around the world to highlight India's key strengths - from innovation and business to arts and culture, while opening up for debate the issues India must overcome to continue its upward trajectory and remain competitive in today's global environment. Panelists will participate in numerous panels, a few of which are Finance, Infrastructure, Energy, and Luxury Retail.
At the previous year's conference, over 800 attendees dissected the theme: "India: Breaking Boundaries", gaining an appreciation for the strides the Indian economy has made recently. Keynote speakers included dignitaries such as Praful Patel (Minister of Heavy Industry) and Sachin Pilot (Minister of State, Ministry of Communications and IT, Government of India), businessmen such as Aditya Puri (MD, HDFC Bank) and Atul Punj (Chairman, Punj Lloyd), and entertainers such as Anil Kapoor, and Vidya Balan. For an in-depth report of last year's conference, please visit NDTV's coverage of the 14th Wharton India Economic Forum.
For further information regarding the conference, please visit us at our Twitter and Linkedin or contact Kabir Singh Bedi, via phone at +1(443)-996-0747, or via email at kbedi(at)wharton(dot)upenn(dot)edu.
###