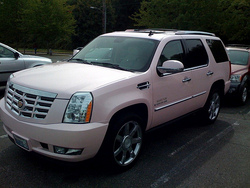 "Earning the Mary Kay Pink Cadillac is a major event in the life and career of a Mary Kay independent sales force member," said Dennis. "It's our privilege at Boucher to help celebrate that achievement."
Milwaukee, WI (PRWEB) April 10, 2011
Mary Kay Independent Sales Force Member, Judie McCoy of Waukesha, WI, will receive the keys to a new 2011 Cadillac Escalade Hybrid 4x4 – in customary Mary Kay Pink – in recognition for having achieved Mary Kay's "Cadillac Level" sales award. The event will take place on Monday, April 11th at 4:30 p.m. at Boucher Cadillac Buick GMC of Waukesha, located on 2145 E. Moreland Boulevard in Waukesha, Wisconsin.
"For more than forty years, the Mary Kay Pink Cadillac has been an iconic symbol of success," said Kevin Dennis, General Sales Manager of Boucher. "As such, it's the most sought-after prize among Mary Kay's two-million independent sales force members. Our team here at Boucher Cadillac Buick GMC of Waukesha, is honored to play a role in carrying on the tradition of rewarding success, which is what Cadillac is all about."
Founder of Mary Kay, Mary Kay Ash was a big believer in rewarding top independent sales force members with cars, dream vacations, diamonds and other lavish items that she often referred to as "Cinderella gifts." The most iconic and enduring symbol of an independent sales force member's success is the Mary Kay Pink Cadillac, which was the brainchild of Mary Kay Ash herself back in 1969.
The delivery of Judie McCoy's prestigious award will be accompanied by a brief ceremony, which will include the unveiling of her all new 2011 Cadillac Escalade Hybrid 4x4, and will be attended by several close friends, Boucher Cadillac Buick GMC customers, and friends and colleagues from the local Mary Kay sales unit.
"Earning the Mary Kay Pink Cadillac is a major event in the life and career of a Mary Kay independent sales force member," said Dennis. "It's our privilege at Boucher to help celebrate that achievement."
About Boucher:
In business for over 30 years, The Boucher Group owns and operates 16 dealerships in the Southeastern Wisconsin area. Boucher sells 16 different new car brands and specializes in used car inventory, carrying nearly 5,000 used cars. Boucher also prides itself on contributions to Milwaukee and the surrounding counties. They support numerous local and national charities every year, including the Muscular Dystrophy Association, Hunger Task Force, Lombardi Charitable Funds, Bobbie Nick Voss Charitable Funds, and La Causa School. More information can be found by visiting Boucher.com or calling 262-754-9600.
About Cadillac:
Cadillac has been a leading luxury auto brand since 1902. In recent years, Cadillac has engineered a historic renaissance led by artful engineering and global expansion. More information on Cadillac can be found at media.cadillac.com.
About Mary Kay:
Mary Kay is one of the largest direct sellers of skin care and color cosmetics. In 2009, Mary Kay achieved $2.5 billion in wholesale sales worldwide. Mary Kay products are sold in more than 35 markets around the world, and the global Mary Kay independent sales force exceeds 2 million. To learn more about Mary Kay, log on to http://www.marykay.com or call 1-800-MARY-KAY (1-800-627-9529).
# # #