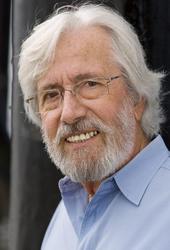 We're honored and delighted to have the opportunity to host an exclusive interview with Mr. Cousteau."
Seattle, WA (PRWEB) April 10, 2011
Green Builder® Media announced today that environmentalist and explorer, Jean Michel Cousteau will be the next visionary presenter for its Impact Series: Game Changers in Sustainability webinar program. Cousteau will join Green Builder Media President Ron Jones on April 20 for an enlightening conversation about the state of our planet's water, including the long-term effects of the nuclear disaster in Japan and the BP oil spill.
Green Builder Media launched the Impact Series in early 2011 with inaugural speaker, Lester Brown, founder of the Earth Policy Institute, followed by former HUD Secretary, Henry Cisneros.
"The Impact Series offers forward-thinking, innovative, and interesting content for building professionals and consumers," said Green Builder Media CEO, Sara Gutterman. "We're honored and delighted to have the opportunity to host an exclusive interview with Mr. Cousteau."
For more than four decades, Jean-Michel Cousteau has dedicated himself and his vast experience to communicate to people of all nations and generations his love and concern for our water planet.
The son of ocean explorer Jacques Cousteau, Jean-Michel has investigated the world's oceans aboard Calypso and Alcyone for much of his life. In 1999, Jean-Michel founded Ocean Futures Society, a non-profit marine conservation organization focused on communicating information about the critical bond between people and the sea, as well as the importance of wise environmental policy. As Chairman of the Board and President of Ocean Futures Society, Jean-Michel travels the world, meeting with leaders and policymakers at the grassroots level and at the highest echelons of government and business.
He is dedicated to educating young people, documenting stories of change and hope, and lending his reputation and support to energize alliances for positive change. Reaching millions of people globally through Ocean Futures Society, Jean-Michel continues to produce environmentally oriented adventure programs and television specials, public service announcements, multi-media programs for schools, web-based marine content, books, articles for magazines, newspaper columns, and public lectures.
Jean-Michel has a degree in architecture from the Paris School of Architecture and remains a member of the Ordre National des Architectes. Jean-Michel has been honored with the Environmental Hero Award, presented to him by then-Vice President Gore at the White House National Oceans Conference in 1998. In 2003, he was inducted into the International Scuba Diving Hall of Fame and became a Trustee of the British Virgin Islands National Parks as well as being the first recipient of the Ocean Hero Award from Oceana. He has also received the Poseidon/Lifetime Achievement Award from Reef Check and been elected to the Global Green Board of Directors. In 2008, he received the Lifetime Achievement Award from Jules Verne Adventures and the National Marine Sanctuaries Foundation Lifetime Achievement Award.
Mr. Cousteau's live webinar will be held Thursday, April 20 at 11am PDT/2pm EDT, and will then be available on demand at http://www.greenbuildermag.com. The webinar is generously co-sponsored by Boral, Beam by Electrolux, BioBased Insulation, Green Builder Coalition, and Green Builder Media.
To register for Mr. Cousteau's presentation and view archived webinars, visit http://www.greenbuildermag.com/impactseries.
Green Builder Media
Green Builder® Media, LLC is the leading media company in the North American residential building industry focused exclusively on green building and responsible growth. With a comprehensive suite of print media, online options, demonstration homes, case studies, training and education vehicles, and live events, Green Builder Media assists building professionals prepare themselves for the new green economy. For more information, visit http://www.greenbuildermag.com.
# # #