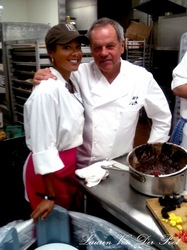 Alexandria, VA (PRWEB) April 10, 2011
The Links Inc. Arlington Chapter continues its efforts in raising awarenss in the community. With the support of wonderful business and organizational partners, the chapter continues to implement award winning programs to include Heart Health Seminars, Fairs, and Lectures, etc. The Healthy Body | Healthy Mind Wellness is in partnership with Inova Alexandria Hospital. 300-400 are expected to attend this much anticipated event that is free to the general public.
HEALTHY BODY | HEALTHY MIND WELLNESS FAIR
Saturday, April 16, 2011
9:30am-1:00pm
Inova Alexandria Hospital
4320 Seminary Road, Alexandria,VA
Event Highlights include:
– Seminars/Lectures
– Health screenings
– A must-see Cooking Demonstration (and samples)
– Door prizes galore
– Healthy Refreshments
– And much more
The event will also feature Celebrity Chef Lauren Von Der Pool of Von Der Pool Gourmet. She will be talking about healthy eating and also conducting a cooking demonstratio. She's a DC Native with an awesome story. She's been featured at The White House, and has been the celebrity chef/caterer for The Oscars, Grammys, American Music Awards, and other countless A-List Celebrity events. Currently, Lauren is setting her sights on developing a television series to inform, empower and inspire. And most recently she's been working alongside with renowned celebrity Chef Wolfgang Puck in Los Angeles. But through it all, she is committed to teaching the elite and impoverished communities about healthy choices and agricultural awareness. Lauren, at the age of 25, is on a Global Mission to replace "junk" food with healthy fare.
TO REGISTER: linkstomyheart(at)gmail(dot)com
# # #