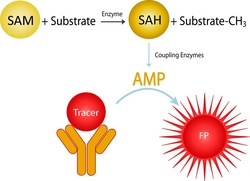 Madison, WI (PRWEB) April 14, 2011
BellBrook Labs today introduced an innovative line of EPIGEN Assays for high throughput screening of enzymes involved in epigenetic modifications. The new EPIGEN Methyltransferase Assay enables screening of methyltransferases, a family of enzymes that create post-translational modifications of chromatin. Although necessary for normal growth and development, epigenetic post-translation modifications, such as methylation, can also play a role in tumor development and cancer metastasis. As a result, many pharmaceutical and biotech drug discovery programs now contain key initiatives dedicated to the identification of methyltransferase inhibitors. The EPIGEN Methyltransferase Assay will address the needs of these initiatives by enabling screening of the entire family of methyltransferase enzymes.
By utilizing its expertise in HTS assay development, the BellBrook team is able to offer generic, fluorescence based detection of methyltransferases. This novel approach avoids the difficulties commonly found in detecting specific methylated products. In the case of methyltransferases, it proved difficult to develop an antibody that recognized S-adenosylhomocysteine – the product of methyltransferase reactions – without cross-reacting with the SAM substrate. Instead, a coupled enzyme assay was developed: the SAH product is first converted to AMP, which is then detected using the Transcreener® AMP/GMP Assay. The EPIGEN Methyltransferase Assay provides robust activity measurements even with very low levels of SAM, while still offering the outstanding deck and signal stability that BellBrook's Transcreener® Assays are known for. Follow-on assays are being developed to screen additional target enzymes, such as Histone Deacetylases (HDACs) and Histone Acetyltransferases (HATs).
About BellBrook Labs:
BellBrook Labs, LLC develops detection reagents and microfluidic devices that accelerate the discovery of more effective therapies for cancer and other debilitating diseases. Transcreener® is a patented high throughput screening assay platform that was introduced in 2005 and is used to identify inhibitors for kinases and other types of protein drug targets. The iuvo™ Microconduit Array technology is a line of unique microscale devices for miniaturization and automation of advanced cell models that are more representative of human physiology. Visit BellBrook's website for more information: http://www.bellbrooklabs.com.
Contact us at 866.313.7881 or info(at)bellbrooklabs(dot)com for more information.
# # #