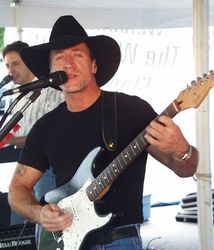 'Thank God' wasn't intended to be a single...
Nashville, TN (PRWEB) April 9, 2011
Johnny Jolin returns to the country music airwaves with "Thank God," a powerful new single centering around family and faith. Markedly different from anything Jolin has ever recorded, the song is already garnering much attention from both Commercial Country and Christian Country radio formats.
Recently signed to Nashville's LWM Records, Jolin's promotion team brought on partner HMG Nashville for radio promotion. "Thank God wasn't intended to be a single when we went into the studio," Jolin says, "but it quickly became a fan favorite on the road and has taken a grassroots, word-of-mouth rise to where it is today. I'm really proud of the song and I think country music fans will identify with the values in this tune."
The song was produced by Dave Smith of the Nashville Song Lab and Studio 515 of Nashville and written by Nashville writer Andrew Scott Wills who also has cuts by Andy Griggs among others.
Jolin hits the road this June to support his new single. "Thank God" is available on iTunes, Amazon and other digital download stores.
# # #