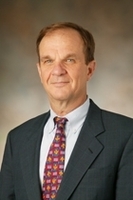 We are delighted to have an individual as respected and accomplished as Dr. Williams to lead our physicians as Vice President Medical Affairs
Suffern, N.Y. (PRWEB) April 11, 2011
Bon Secours Charity Health System (BSCHS) has appointed a nationally-known physician leader, Rodney W. Williams, M.D., J.D., M.S. as Vice President Medical Affairs for Good Samaritan Hospital and Chief Medical Officer for Bon Secours Charity Health System, announced Philip A. Patterson, CEO of BSCHS.
"We are delighted to have an individual as respected and accomplished as Dr. Williams to lead our physicians as Vice President Medical Affairs," said Patterson. "With the depth of his experiences and the breadth of his understanding of today's health care delivery model, I am confident that he will achieve the important and ambitious goals that we have jointly set for him at Bon Secours Charity, and that he will be an outstanding physician leader for our System."
For the past 15 years, Williams has served as Vice President Medical and Legal Affairs, and later as Executive Vice President and Chief Medical Officer at Greater Baltimore Medical Center, a 300-bed acute care community teaching hospital affiliated with the Johns Hopkins University School of Medicine in Maryland. Among his many accomplishments while at GBMC, he managed academic affiliations with Johns Hopkins School of Medicine, provided physician leadership and input to the interdisciplinary team responsible for implementation of a computerized physician order entry system, and designed and implemented an organization-wide care management and hospitalist program.
Dr. Williams will serve as Chief Medical Officer (CMO) for the entire BSCHS system, with direct day-to-day responsibilities centered at Good Samaritan Hospital in Suffern, N.Y., while he concurrently supports the medical staffs at St. Anthony Community Hospital in Warwick, N.Y. and Bon Secours Community Hospital in Port Jervis, N.Y. In this capacity he will oversee physician satisfaction and engagement, while leading BSCHS physician teams in the creation of the "ideal patient experience," by developing, implementing and monitoring systems and processes that ensure the highest quality of care, patient safety and evidence based medical standards.
Of particular importance, Williams will serve as the physician leader of BSCHS' "Clinical Transformation" process, working with an inter-disciplinary team to achieve care delivery excellence throughout the patient care continuum. He will support the System's ConnectCare electronic medical records initiative and oversee regulatory compliance, medical staff services and peer review, case management, managed care and discharge planning, medical education, and physician credentialing.
Dr. Williams was formerly a practicing attorney focused on health care law, in addition to being a skilled physician and an accomplished administrator. He received his AB in Human Biology from Stanford University, and his MD from The University of California School of Medicine in San Diego, completing his internship and residency at the University of Colorado Affiliated Hospitals in Denver. He later earned his JD at Stanford University School of Law, and furthered his education by receiving a MS in Medical Informatics from Northwestern University. He was fellowship trained in Medical Oncology at the Dana-Farber Cancer Center in Boston, and completed a clinical fellowship at Brigham and Women's Hospital Harvard Medical School in Boston. He is a member of the American College of Physician Executives (ACPE).
About Bon Secours Charity Health System:
The Bon Secours Charity Health System includes Good Samaritan Hospital in Suffern, N.Y., a regional medical center, and two community hospitals: Bon Secours Community Hospital in Port Jervis, N.Y., and St. Anthony Community Hospital in Warwick, N.Y. Additionally, Bon Secours Charity Health System provides the services of a Certified Home Health Agency, two long-term care facilities, an assisted living and adult home facility, and several other off-site medical programs. The Bon Secours Charity Health System draws its name from the two Catholic orders that jointly sponsor the system: The Sisters of Bon Secours and the Sisters of Charity of Saint Elizabeth. For more information, visit http://bschs.bonsecours.com.
# # #