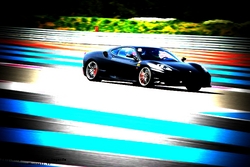 These cars are some of the most elite cars in the world and just a few have been manufactured making them very difficult to purchase or even rent. We are pleased that our extensive global network has allowed us to offer these exotic cars to our members
Zug, Switzerland (PRWEB) April 12, 2011
Type-41 today announced that it is launching an exclusive, by invitation only, supercar club at Top Marques in Monaco that provides its members with the extraordinary opportunity to drive an unrivalled range of rare and exciting supercars in Europe. Located on the Cote d'Azur, the collection of supercars are all limited or special edition Ferraris, Audis, Lamborghinis and Aston Martins to name a few.
Supercars are considered to be out of the ordinary vehicles that are very expensive, fast or powerful in comparison to the general automotive marketplace. They usually have very sensitive handling capabilities and are sleek and eye-catching. Supercars can take many forms including limited production specials from an "elite" automaker, standard looking cars made by mainstream companies that hide massive power and performance, as well as models that appeal to hardcore enthusiasts from manufacturers on the fringe of the car industry.
"Type-41 goes to great lengths to offer the best of the best to today's discriminating car enthusiasts. These cars are some of the most elite cars in the world and just a few have been manufactured making them very difficult to purchase or even rent. We are pleased that our extensive global network has allowed us to offer these exotic cars to our members," said Juergen Obermann, Type-41 founder and president. "Anyone that has ever owned a supercar knows the hassles and headaches it takes to care for these very special cars. Type-41 alleviates these difficulties while providing a financially astute opportunity to experience a full range of supercars and each of their distinctive driving advantages."
An invitation only club, Type-41 enables its members to drive its exclusive and luxurious cars for a specified amount of time on a yearly basis and membership is severely limited to ensure car availability is never an issue. A list of just some of the supercars available to Type-41 members include the Ferrari 599 GTO, the fastest road car ever built by Ferrari, the Audi R8 GT which delivers a Lamborghini and Porsche level of performance for a street car with serious track intentions, and the Porsche 911 GT2RS, the most powerful street-legal, factory-built Porsche of all. Only 500 models were built and were sold out before they left the factory floor. The Lamborghini LP570-4 Spyder Performante is also available and it is an automotive high-performance athlete that combines sheer sporting excellence and extreme performance with that unique open-air feeling that only a soft-top can offer. The Aston Martin DBS UB-2010 Volante is extremely rare as only twenty of these were ever manufactured, resulting in a luxury sports car without equal.
A major benefit of Type-41 membership is that it eliminates the owner's need to perform the meticulous maintenance needed to keep these cars running, especially when supercars of this caliber are driven just a few times a year. Type-41 keeps all of its cars in tip-top mechanical condition every day, ensuring that every time a car is used, it always furnishes the thrill of driving one of the world's preeminent driving machines by delivering the handling and performance unique to each model
In addition to making it easier to drive supercars, Type-41 membership also dramatically reduces the costs of owning these unique vehicles because members don't have to worry about depreciation or the additional costs for insurance, storage, security and servicing. In fact, membership enables each individual to save up to 20 thousand euros per year over the price of purchasing just one of these vehicles. Type-41 is also much more cost-effective than the daily rental of these cars, if they are even available to be rented.
Membership also makes it easier to justify driving an elite powerful supercar because the sharing of the cars amongst its members and the constant maintenance performed on each car dramatically reduces each car's carbon footprint and potential environmental impact. The cars are fully serviced by highly skilled, fully trained Type-41 mechanics to ensure optimal condition and members are fully briefed with detailed explanations of each car prior to use, including the specific characteristics of each model. Type-41 has also installed the latest GPS technology in each car, enabling detailed engine diagnostics to be continuously monitored, providing a complete view of the health of each and every car at any given moment in time. As a result, car problems are usually found and repaired before the driver is even aware of them, providing the ultimate in safety and performance.
Type-41 also provides premium special events to its members to offer once-in-a-lifetime experiences such as driving authentic Jordan or Jaguar Formula 1 cars or super GTs such as the Ferrari 599 GTO or the F430 Scuderia on the best race tracks in the world. For example, an upcoming Type-41 exclusive event offers the opportunity to drive Formula One cars at Le Castellet in the Var - a truly world-class modern race track with a high tech environment used by many F1 and Les Mans teams for testing. Driving tours along some of the best routes in Europe will also be organized that feature outstanding vistas and unique one-of-a-kind hotels. Type-41 will also be able to offers it members a private terrace overlooking the track during the Monaco Grand Prix for outstanding race views. Events like these enable the members to meet other like-minded individuals from across the world to create a community of supercar fans like no other.
About Type-41
Type-41 is an exclusive, by invitation only, supercar club that provides its members with the extraordinary opportunity to drive an unrivalled range of rare and exciting supercars in Europe. An extremely cost effective method of enjoying some of the most sought-after cars in the world, Type-41 membership offers the best way to enjoy rare and exceptional supercars - hassle free and at an attractively low price. Type-41 other membership advantages ensure that every supercar is always in peak mechanical condition and ready to drive. Expert advice for each and every supercar enables each member to exploit and enjoy the specific features of each model in the collection. For more information, please visit us at http://www.type-41.com or email us at info(at)type-41(dot)com.
###