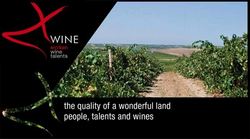 Sunday, June 26-11: Presentation to the press at San Francisco's Consulate General of Italy. Monday, June 27-11: Tasting dedicated to wine and food professionals at San Francisco's Golden Gate Yacht Club. June 29-11: Portland. July 1-11: Seattle.
San Anselmo, CA (PRWEB) April 13, 2011
X Wine was recently founded by six Sicilian estates who pooled their talents and resources to become world ambassadors for the natural beauty, rich history, diverse culture and amazing wines and food products grown and crafted on their beautiful Mediterranean island.
In Italy, a land known worldwide for the excellent wines and foods since time immemorial, so much so that it was known by the name of Enotria, or Land of Wine to the ancient Greeks, Sicily stands out for being the major wine producers among all the Italian regions. This small island produces one DOCG (Denomination of Origin Controlled and Guaranteed) and 22 PDO (Protected Denomination of Origin) wines, in addition to eight PGI (Protected Geographical Indication) and 15 PDO (Protected Denomination of Origin) food products.
Sicily: Quality and Terroir
With 115,686 hectares (over 285,866 acres) of vineyards, 710 estates producing 200 million bottles of wine year in and year out, Sicily comes across as a self contained, mini continent. The goal of the estates reunited in X Wine is to promote the Sicilian products protected by the denomination of origin, focusing in particular on four DOP wine areas: Marsala, Delia Nivolelli, Moscato di Siracusa, Pantelleria and Moscato di Pantelleria.
The US tour will unveil the passion of those who grow the grapes and make the wines on this unique island. The talented professionals of X Wine have a common objective and belief that the success of Sicilian wines worldwide depends on the quality of the products first, but also on the ability to translate and communicate it to the rest of the world. Each estate and wine area has its own experts and champions, who must be discovered and spotlighted for the world to see, enjoy, and admire. The X Wine estates offer US wine and food professionals the opportunity to discover, or get to know better, the varied Sicilian vitivinicultural world with tastings and seminars conducted by the protagonists in person. Their passion is but another quality ingredient that goes into the making of the great Sicilian wines.
The varied climate of this southern Mediterranean island, allows for wines with very different organoleptic characteristics. X Wine will guide participants along a sensory tour of Sicily, in an effort to offer a new way to understand its wines along with the history, terroir, passion, tradition and innovation which are part of this perfect blend.
Sicilian DOCG and DOP Wines
DOCG: Cerasuolo di Vittoria
DOC: Alcamo, Contea di Sclafani, Contessa Entellina, Delia Nivolelli, Eloro, Etna, Erice, Faro, Malvasia delle Lipari, Mamertino (Mamertino di Milazzo), Menfi, Monreale, Noto, Marsala, Moscato di Pantelleria (Passito di Pantelleria and Pantelleria,) Moscato di Siracusa, Riesi, Salaparuta, Sambuca di Sicilia, Santa Margherita Belice, Sciacca, and Vittoria.
Wine and food professionals interested in participating in any, or all of the four events, please e-mail to [email protected]. Please note that the appointment at the Italian Consulate General of Italy in San Francisco, California, is dedicated to the media only.
###