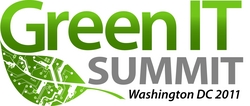 This will be a great opportunity to network with green IT experts and leading subject matter experts on Sustainable IT," according to Terell Jones, Director of Green IT Council
McLean, VA (PRWEB) April 12, 2011
In celebration of Earth Day, the Green IT Council will be holding their second annual Green IT and Cloud Computing 2.0 Summit on April 20-21. Since Earth Day 2011 coincides with Good Friday, the Green IT Council planned the event two days prior to April 22, 2011. The original purpose of Earth Day was to put the environment into the political "limelight". Earth Day was founded by Senator Gaylord Nelson who wanted to start an organized grassroots protest over what was happening to the environment. On April 22, 1970, the first Earth Day was held; there were rallies across the country. This first Earth Day was instrumental in the passage of the Clean Air, Clean Water, and Endangered Species Act. By 1990 Earth Day was globally mobilizing 200 million people in 141 countries to focus on environmental issues.
The Green IT and Cloud Computing 2.0 Summit 2011 is a Two-day conference that begins on April 20 and brings together leaders from the private and public sectors to transform the ideas around sustainable information technology generated during the 2010 GreenGov Symposium into actionable plans. It also provides a forum to forge the strategic alliances and partnerships necessary to realize the promise of sustainable IT for federal, state and local agencies.
REGISTER: http://www.greenITdc.com or http://greeniteconomicsummit.com/register
Senior IT, Internet Leaders and CIOs from business, government and industry will serve as keynote speakers and panel discussion members, moderated by equally prominent members of industry and media. Attendees will gain insight into real-world Green IT and Cloud Computing Solutions. They will learn how you can get the most out of their budgets and how to avoid project failure. They will also get the latest green information technology products and solutions. "This will be a great opportunity to network with green IT experts and leading subject matter experts on Sustainable IT," according to Terell Jones, Director of the Green IT Council.
About the Green IT Council
The Green IT Council is a non-profit initiative started by leading experts in the IT Industry. The purpose of the Green IT Council is to educate IT professionals, managers, and government on the need for eco-friendly technology. The council works with leading experts to determine a standard for Eco-friendly technology, and the true environmental impact. It recognizes and awards companies showing a forward thinking view of technology and its environmental impact. http://www.greenITcouncil.org
Register - http://greeniteconomicsummit.com/register/
###