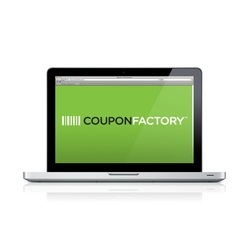 Digital couponing has exploded over the past several years as consumers have gone back to more frugal shopping habits
Rogers, AR (PRWEB) April 11, 2011
Rockfish (http://rockfi.sh) announced today the launch of CouponFactory, a turnkey couponing software platform that gives businesses the ability to easily create, customize and place their coupon widget wherever they choose.
CouponFactory is a simple, affordable digital couponing platform with a flexible interface that is a better solution for companies and consumers alike. For brands, retailers and small businesses, CouponFactory's solution provides:
1. Easy-to-use, turnkey web solution
2. Customer data collection
3. No set-up fees
4. Detailed digital coupon analytics
5. Coupon fraud control
6. Mobile, web and social embed options
CouponFactory also provides a superior consumer experience including:

No 3rd party redirects
No downloading printing software
Simple, 2-click print
"Digital couponing has exploded over the past several years as consumers have gone back to more frugal shopping habits," said Wade Allen, VP of Rockfish Retail. "Many CPGs, retailers, and small businesses have been unable to fully participate due to costs, fraud, and poor customer experience. CouponFactory was built specifically to resolve these issues for businesses and consumers alike."
Premiering at the In-Store Marketing Summit in Chicago, CouponFactory has already been tested by leading national brands such as White Cloud to distribute offers through various forms of digital media.
"This breakthrough technology allows our Brand Advocate bloggers to embed a 'widget' into their blogs with very little effort, allowing their followers to print White Cloud coupons directly from their site without having to be redirected to a third-party site," said John McPherson, White Cloud's Director of Marketing.
For more information or to sign up, go to http://www.couponfactory.com/news
###