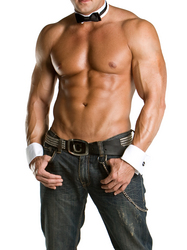 Chippendales has a zero tolerance infringement policy and imposters not only defraud club owners but, they damage the first-class image we strive to create.
Las Vegas, NV (PRWEB) April 11, 2011
The winning combination of sinful schoolboy charm and naughty fantasy colliding with the wholesome boy next door has solidified Chippendales® as "#1 Male Revue in the World" for over 30 years. Like many famous brands, Chippendales is constantly policing its rights to combat imposter shows illegally billing themselves as official Chippendales touring companies.
On Wednesday, April 6, 2011, at Legends Sports Bar in St. Joseph, MO, an imposter touring troupe scammed the audience with an unofficial show, which in turn was shut down by local police. In an effort to set the record straight of numerous inaccurate news reports referring to that troupe as the "Chippendales," and to bring the real Chippendales to the victims of this scam, Chippendales is offering an official calendar to any women who sends her ticket stub from the St. Joseph's show to the corporate office (Chippendales USA, LLC, 95 East Bethpage Road, Plainview, NY 11803). At this point in time, Chippendales USA, LLC has filed no legal action against the infringer show or Legends Sports Bar.
Chippendales Managing Partner, Kevin Denberg reiterates that the company has a "zero tolerance infringement policy" and imposters not only defraud club owners but, "they damage the first-class image we strive to create." This damage was taken one step further in St. Joseph as both the club and news inaccurately referred to the male revue in question as an official "Chippendales" show.
In addition, in exchange for any further information or pictures relating to this this show or leads resulting in the cancellation of another infringing show, Chippendales will provide the informant with two complimentary show tickets during the next year to any one of the following: The Chippendales Theatre at the Rio All-Suite Hotel & Casino in Las Vegas, Nevada, or any other official Chippendales touring production. Under its current management, Chippendales has enjoyed a perfect record in every legal proceeding initiated to protect its intellectual property.
Annually, the official Men of Chippendales will be seen by almost 2 million people worldwide and will perform in more than 25 cities in the U.S., 23 cities in Central and South America, 60 European cities, 4 Asian countries and 8 South African cities. Official productions are listed at http://www.Chippendales.com
Chippendales, one of the world's most recognized brand names, is the premier provider of entertainment for women with a flagship production at the Rio All-Suite Hotel & Casino in Las Vegas and a U.S. and international touring productions. The Company produces Broadway-style shows worldwide and licenses its intellectual property for select consumer products ranging from apparel and accessories to slot machines and video games. The company also operates Chippendales.com, an on-line lifestyle and entertainment destination for women. Chippendales® was established in 1979 and has headquarters in New York, with offices in Las Vegas and London.
###