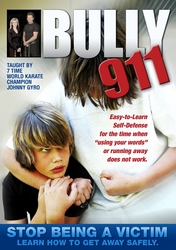 John and I are not content watching the media hype the violence and lament over the lack of solutions. Here is the solution. We made these apps for FREE distribution so everyone can learn these lifesaving critical lessons.
Los Angeles, CA (PRWEB) April 11, 2011
Directly after being inducted into the Living Legends of Sport Karate alongside Chuck Norris, Bill Wallace, Mike Stone and other champions, eighth degree blackbelt, Johnny Gyro announced his latest innovation in his personal vendetta against bullies and street violence. Free apps for the iPhone, iPad.and soon, the Android. It's like carrying a sensei in your pocket.
Bully 911 and Live to Tell About It have both won numerous awards including the Parent's Choice Award when they were first released on DVD. Now the easy-to-learn self defense lessons for children, teens and women have been updated and released absolutely FREE as an iPhone and iPad App and will soon be available on Android as well.
Growing up as an "army brat," Johnny Gyro was no stranger to being bullied as a child. After suffering the daily humiliation of having to choose between his lunch money or a beating from the school bully, Johnny set his sites on remedying that situation in his life forever. As a moment that defines a person's lifetime, that realization for Johnny would come to sculpt a distinguished career that would emerge from the shadows of degradation. After fighting and securing the World Karate Championship 7 times over, Johnny Gyro set out to spread his cultivated wisdom in self defense to as many people as he could.
Together with his wife Noel, who is herself a Fifth Degree Black Belt, Johnny opened Johnny Gyro Karate in Agoura Hills, California to bring his 36 years of self defense teachings to his local community. Following on the heels of that success, Noel and Johnny partnered with the multi award-winning production company, The Illusion Factory, to promote their unique teaching methods with the critically acclaimed, hugely successful Live to Tell About It DVD.
The first DVD of women's self defense techniques taught by a woman in simple, easy to follow instructions was heralded as The Best Self Defense DVD for Women and has been used by organizations, corporations and individuals as a training tool to teach women to become more aware, prepared, and capable of defending themselves against attack.
Noel Gyro says, "This free women's self defense app does not teach women to take on a persona that is "Amazonian" in nature. This is not about "destroying" an attacker. It is about developing confidence and empowerment so that women do not fear using their minds, voices, and bodies to defend themselves against aggression. For women, reaction to potential danger or aggression in any form must become instinctual and instantaneous. We are in this to save lives. Pure and simple."
Their new Bully 911 iPhone, iPad and Android app brings the impetus for Johnny's career full circle as he bottles the remedy for the rampant bully problem into a comprehensive program. This is a unique free app that enables parents and children to work together to teach children how to escape when "using their words" is no longer an option.
"Crime in school is decreasing but bullying is skyrocketing," commented Johnny. "I am the first to suggest that all fights should be avoided, but it is equally ignorant to assume that your child will not be subject to some form of bullying in the course of time they spend at school. If your child is in a headlock, do you want him to get away or to take the fist in the face? I have taken that fist in the face many times as a kid. No kid should ever have to experience that and I am going to be in their pocket teaching them how to avoid it many different ways. Plus we have built a daily affirmation system in our two apps so I can send them messages of empowerment to start off their day."
"No one wakes up and says, today I am going to be a crime statistic," closed Noel. "John and I are not content watching the media hype the violence and lament over the lack of solutions. Here is the solution. We put our money where our mouths are. We made these apps for FREE distribution so everyone can learn these lifesaving critical lessons. People will be surprised at how much fun it is to practice these simple techniques.
The Illusion Factory is a creative think tank, production studio and design firm whose 31 years in entertainment, gaming, sports and television spans all forms of programming from televised, filmed, digital, apps, new media, online technologies, and rich media advertising. The multiaward winning teams at The Illusion Factory continue to set the technology and creativity benchmarks with their innovations and new company spin offs including NxtGenTV, NetConference, Z Scape.
Bully 911 Free app and Live to Tell About It Free app are both available for iPhone and iPad in the app store and will be released on Android in the beginning of May.
http://www.johnnygyrokarate.com/
Media Relations:
Brian Weiner
323-465-1155
brian(at)illusionfactory(dot)com
###