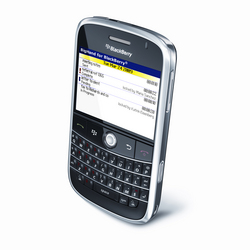 (PRWEB) April 12, 2011
BigHand, the leading voice productivity vendor in the global legal and professional services sector has today announced that Top-100 law firm Farrer & Co has completed the replacement of its existing dictation system with market-leading BigHand digital dictation workflow software. The voice productivity technology has been deployed firm-wide to 300 users, including 200 lawyers who have increased their mobile productivity via BigHand for BlackBerry®. The firm has also implemented the award-winning integration with rekoop® to capture more time at the point of dictation.
Neil Davison, Head of IT at Farrer & Co comments:
''We have been using digital dictation for a number of years and as many firms are now doing, we questioned if our current system could deliver our business requirements and the customer service levels required to meet our objectives. We felt that a shift in systems would deliver more innovative technology, and that a direct relationship with the developer would assist with any complex support problems and enhancement requests. I spoke to several other IT directors using BigHand which reinforced our decision to evaluate systems.
"We have over 200 BlackBerrys and effective, well designed mobile apps can make a tangible difference to our productivity. The partnership wanted a mobile dictation system and we were impressed by the close integration and working relationship with rekoop. Our lawyers love the flexibility that BlackBerry dictation gives them and additionally they are now able to record time at the point of entry and as a result they are recording and billing more time. We are also encouraging lawyers to send instructions via BigHand rather than spending extra time typing a long email to their secretary.
"BigHand was the obvious choice for us, and I have been very impressed with the service we have received; project management was excellent and the implementation, alongside rekoop, was simple with few problems. We have a number of projects on the go and BigHand has not caused us any significant disruption. I would definitely recommend BigHand to firms looking to get more from their digital dictation provider.''
Neil Davison was named 'IT Strategist of the Year' at the KnowList Awards 2011 and BigHand's integration with rekoop was named 'Love Working Together' category winner at the BlackBerry EMEA Innovation Awards 2010.
About BigHand
The BigHand Group supports over 130,000 professionals globally, across 1,300 organisations, and is based out of London, Chicago, Sydney and Toronto. BigHand is a Microsoft Gold Partner and Elite BlackBerry ISV Partner, and was voted 'Dictation System of the Year' at the 7th Annual Law Technology News (LTN) Awards 2009. BigHand was also nominated at the British Legal Awards 2009 as 'Technology Provider of the Year'. Additionally, BigHand won 'Mobile Product of the Year' at the CNet Business Technology Awards 2008. Further info is available at http://www.bighand.com
###