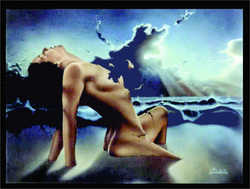 In unprecedented art news, Jim Warren's controversial nude painting, "Sexual Explosion," banned in the United States from public exhibition for being "obscene and sexually explicit," is suddenly the World's Most Famous Nude Painting in Art History
New York, NY (PRWEB) April 15, 2011
In what is being reported as the most unprecedented "public interest" art story in years, the new "Sexual Explosion" phenomena is hitting on all news and media fronts in what appears to be unstoppable momentum. Based on the amount of "reads" and "impressions" it is earning, especially throughout the United States and Europe, it appears that mass public interest is mounting; and that "Sexual Explosion," Jim Warren's controversial nude painting, is capturing the heart and soul of not only people in the arts but also of people in the street who are discovering the astonishing iconic image of "Sexual Explosion" for the first time.
The "Sexual Explosion" intriguing story immediately became a new world-wide phenomena on March 17, 2011. It is special news when a painting that had been banned from public exhibition 35 years ago for being "obscene and sexually explicit" suddenly becomes the talk of the art world. This is exactly what happened after "Sexual Explosion" was named the World's Most Famous Nude Painting Since the Nudes of Picasso, Dali and Modigliani on March 17, 2011. This history-making event is similar in scope to the attention that Pop Music sensation Lady Gaga received when her "Bad Romance" pop music video broke all viewing records on YouTube (topping Queen Madonna's reign) and she, too, like "Sexual Explosion," captured the imagination of an adoring public.
Documented by new evidence from Google Search and Yahoo Search engines, "Sexual Explosion" has literally and officially "exploded" onto the art scene. "Sexual Explosion" is now officially ranked with photographs in Google Search Images, most prominently under several significant listings: "Most Famous Contemporary Paintings," "Most Famous Modern Paintings," "Most Famous Surreal Paintings," "Most Famous Pop Art Paintings," and "Most Famous Nude Paintings."
The Warren "Sexual Explosion" master work is often listed more times or ranked higher on Google Search Images than other heavily-entrenched world famous challengers, from the recent past to those from past centuries, including Leonardo da Vinci's "the Mona Lisa," Andy Warhol's "Marilyn;" Pablo Picasso's "Nude, Green Leaves and Bust" (which was originally purchased for $17,000 USD and was little known until it sold for $106.5 million USD at Christie's in New York in 2010), Lucian Freud's "Benefits Supervisor Sleeping" (which was auctioned for $33 million USD at Christie's in Manhattan in 2008), in addition to numerous renowned Modigliani nudes.
As a matter of fact, of all the leading challengers in the 5 listings mentioned above, "Sexual Explosion" is the only painting to be listed in all 5! That is worth repeating: Of all the leading contenders in the 5 listings, "Sexual Explosion" is the only painting to be listed in all 5!
What was once perceived by the art establishment elite in the 1970's in the United States as acceptable art -- led directly to the "banned from public exhibition" status of "Sexual Explosion" for being "obscene and sexually explicit." However, open-minded and open-eyed other art connoisseurs at the time, mostly from the anti-establishment and the anti-elite movement, however, viewed Jim Warren's surreal painting quite differently, experiencing the 22' X 28" oil on canvas as being daring, as mystical, as visionary and as liberating -- in its explosive erotic ecstasy! Indeed, "Sexual Explosion" was a brave and shocking new art statement that depicted the times and mirrored the American culture or society. It was therefore, aptly named then as it is now --- "Sexual Explosion" --- because it brought attention to the coming Sexual Revolution which eventually was to sweep the whole world.
Yes, "Sexual Explosion" strikes a special cord that exemplifies perfectly the Sexual Revolution that changed the sexual world and the art world as well, but that is only one part of its importance in art history. And while "Sexual Explosion" is 35 years older now, the girl in the painting who is reclining on a surreal beach or in surreal heaven, is still ageless and will remain so during the ages to come.
It should also be noted that Jim Warren also painted another masterpiece titled "Eternal Youth" but that is a whole other fascinating and fabled story for another time and place. We urge you to experience "Eternal Youth" nevertheless for yourself on YouTube art music video, "Eternal Youth Astral Love" or on http://www.artcollectorswebsite.com.
Not to be completely upstaged by "Sexual Explosion," another Jim Warren master work (often referred to as the other Jim Warren nude) is also achieving world renown in its own right. "Re-Birth" is now following in "Sexual Explosion's" barefoot footprints, so to speak, for it too, depicts nude female figures also in a Jim Warren surreal beach or a surreal heavenly setting somewhere in his incredible imagination. "Re-Birth" has a glorious "glow" that sets it apart from your typical classical nude paintings. You can view an art music video entitled "Famous Nude Painting Re-Birth Nudes by Neo Surrealist Jim Warren" on http://www.artcollectorswebsite.com or on YouTube. (And speaking about YouTube, you will discover that Jim Warren has a large cult following and may possibly be the most "YouTubed" living artist today with "Tribute" videos to his art from all corners of the earth.)
Yet, another Jim Warren original oil canvas is literally making waves in art, too: The renowned "Running Wild" horse icon piece that was the actual prototype art for Jim Warren's Grammy winning cover art for Bob Seger's "Against the Wind" album in 1981. That album went on the sell over 6,000,000 copies world-wide, thus making its image the most famous horse icon in modern art. The "Against the Wind" Warren painting (not to be confused with the "Running Wild" painting), is now in the art collection of the Rock and Roll Hall of Fame Museum in Cleveland, Ohio.
In a press announcement, according to an Art Collectors Website spokesman Stan Zipperman, who represents the leading online art gallery that exhibits "Sexual Explosion," to meet new and growing public demand, the gallery has rushed into release an "explosive" new art music video entitled, "SEXUAL EXPLOSION - 40 Intimate Seconds with the Nude Girl from Sexual Explosion - Famous Nude" with music by Hunger!'s cult favorite song "She Let Him Continue." The world-premiere of the art/ music video is scheduled for presentation on Youtube for immediate release.
It appears now that, although "Sexual Explosion" has been sequestered over the last 35 years in a secret art collection, it has had a dedicated cult following by those persons who knew of its existence and had seen photos of its metaphysical and mystifying beauty. Over time, the reputation and mystique has been growing in select art circles. More recently, pop music stars Madonna and Lady Gaga both posed for erotic tinged photographs similar to the facial expression struck by the girl in the original "Sexual Explosion" painting.
What is one of the most intriguing turn of events of all, however, in the "Sexual Explosion" phenomena, is the amazing fact that the last name Warren comes directly after the last name Warhol in alphabetical order.
Isn't it strange (to say the very least) that Warhol, last century's most famous Pop Art American artist, painted last century's most famous Pop Art Icon -- Hollywood's Marilyn Monroe!
And isn't it more strange (to say the very,very least) that we now have Neo-Surrealist Jim Warren, whose last name comes directly after Warhol's, as the painter of the now Most Famous Nude Painting "Sexual Explosion." Add to this, one last piece of amazing Truth: Jim Warren was born just outside Hollywood, California and won his first "first prize" at an art festival in Westwood, California the place where Marilyn Monroe now rests.
Is it that Truth is indeed Stranger than Fiction?
Or is it that Truth is a mere Co-Incidence or a Divine Master Plan?"
###