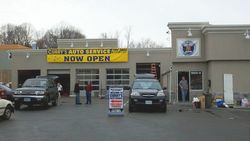 Sterling, VA (PRWEB) April 13, 2011
Curry's Auto Service, headquartered in Sterling, VA, opened its seventh shop on April 4. Located at 9909 Main Street in the City of Fairfax, VA, the new shop includes 4,000 square feet with five service bays, ASE certified technicians and Curry's usual state of the art equipment.
Curry's Auto Service is one of the largest independent service and repair shops in the DC area, with more than 4,000 customer interactions each month at its six locations in Northern Virginia: Arlington, Chantilly, Dulles, Falls Church, Gainesville and Great Falls/Reston.
Founded by Matt and Judy Curry in 1997, Curry's Auto Service was named "2010 Top Shop" by Motor Age Magazine. In June 2010, Curry's Auto Service was chosen by the readers of Northern Virginia Magazine as "Top Auto Shop" in Northern Virginia. In addition, Curry's has received the highest AAA ratings in the country for customer satisfaction.
During the past three years, Curry's Auto Service has grown in sales and profitability showing a 69% increase in revenues between 2008 and 2010. Curry's is involved in a major expansion program that has seen it grow from four stores in 2008 to seven in 2011. In recognition of this growth, Curry's was named to the Inc. 5000 list of fastest growing private companies in the U.S. last year.
Curry's Certifications
Curry's technicians, who are all certified by the National Institute of Automotive Service Excellence (ASE), do technical repairs and diagnostics for which many of the franchise outlets do not have the expertise.
They also perform routine maintenance such as oil changes, transmission flushes, tires and state safety and emissions inspections. Curry's technicians can repair all makes and models, including race prep and performance modifications and service and repair European and exotic cars.
In 2009, Curry's Auto Service was the first auto service facility in Virginia to receive the AskPatty "female friendly facility" certification. As part of this program, Curry's customers have access to an online community providing impartial advice to women on auto purchases, repairs and maintenance.
Curry's is also Bosch Authorized and a member of the Tire Pros Network, the largest network of independent tire dealers in the US. As part of the nationwide network, Curry's Auto Service can also offer its customers nationwide tire and automotive repair warranties, honored coast-to-coast at more than 300 Tire Pros stores and 10,000 American Car Care Centers.
Curry's Awards
On March 1, 2011, Matt Curry was chosen as one of eight "Locally Grown Winners" by the Network for Teaching Entrepreneurship. He will be honored at Gala on April 27.
Before its selection in 2010 by Motor Age magazine as 2010 Top Shop, Curry's Auto Services was one of three finalists across the country for Tire Review Magazine's "2009 Top Shop Award." Judy Curry has been recognized by the Washington Business Journal as one of the "Women Who Mean Business" in 2008 and by Virginia Lawyer's Weekly as one of the " Influential Women of Virginia" in 2010. Curry's Chief Financial Officer Chris Holcomb has been recognized by the Washington Business Journal as 2010 CFO of the Year in the service industry and by Washington SmartCEO as one of its Smart CFOs for 2011.
For directions and information to Curry's new Fairfax shop, visit http://www.currysauto.com/fairfax.htm or call the new location at 703-691-1091
###