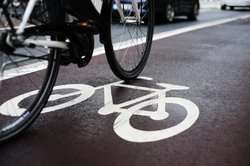 I thought if we promoted bike riding between homes, it would be a win-win. We get around faster and get a better feel for neighborhoods while enjoying a workout that doesn't increase our carbon footprint
Chicago, IL (PRWEB) April 12, 2011
House hunting in Chicago usually means having a thick skin to bear through the stop-and-go traffic and parking battles. But StartingPoint Realty, a real estate agency located just outside Chicago, IL that focuses on first time home buyers, is looking to take a different approach. They are encouraging home buyers to bike ride their way through the home search. 
"Absolutely nothing good comes from sitting in traffic and burning through gas. I thought if we promoted bike riding between homes, it would be a win-win. We can get around faster and get a better feel for neighborhoods while enjoying a workout that doesn't increase our carbon footprint," says StartingPoint Realty owner Ryan Gable. 
Being good to the planet isn't the only incentive to participate in "Bike Your Home Search." If a client spends at least two days biking with StartingPoint Realty instead of in a car and eventually closes on a new home, they'll get a $250 gift card to the local bike shop in their brand new 'hood. "The response has been great from both clients and the local bike shops in Chicago," Gable says.  
Lest prospective buyers be concerned that biking through their home search could be cumbersome, they can put their minds at ease. StartingPoint Realty has devised a system where all the client needs is their bike, helmet and water. "We provide the locks and we carry all the listing sheets, camera, and note pads in a backpack. The idea is to make it fun, not a hassle for the client," says Gable.
This novel approach to house hunting makes perfect sense for the city-minded buyer. Chicago has a national reputation as one of the best large cities in the United States for cycling. We recently placed 10th on a list of top 50 bicycle-riding cities by Bicycle Magazine (Source: http://www.bicycling.com/news/advocacy/10-chicago-il). Chicago continues to embrace its cycling identity with an agenda called "Bike 2015 Plan," which recommends projects, programs and policies to encourage more Chicago residents to take advantage of this green-friendly and healthy mode of transportation.
Because StartingPoint Realty specializes in the first time home buyer, they are continually looking for ways to speak to their unique customer base. Often working with a younger clientele, they understand how important it is to make the home buying process as simple and enjoyable as possible.
"Seeing as we are the only agency in the Chicago area that focuses solely on the first time home buyer market, it's easy for us to listen and implement new programs relating to our audience. With the environment being such a hot topic right now, this idea was a natural fit," Gable says.
Founded in 2004, StartingPoint Realty is a Chicagoland real estate team dedicated to assisting and educating the first time homebuyer. StartingPoint Realty's passion is to share their knowledge of the steps that each first-time buyer must take and steer them through any potential problems along the way. Their knowledgeable team regularly hosts free first-time home buying seminars throughout Chicago and the surrounding suburbs. For more information please call 847-348-1154, email RyanGable(at)StartingPointRealty(dot)com, or visit their website at http://www.StartingPointRealty.com.
###