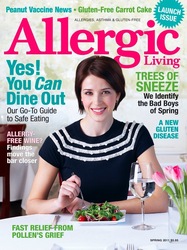 My attitude is that I have allergies, but they don't have me," says Gwen Smith, the magazine's editor. "That's what I wish for all our readers and their families.
Niagara Falls, NY (PRWEB) April 11, 2011
Allergies are skyrocketing. Up to 40 million Americans suffer allergies to environmental triggers – from pets to pollen and mold. And the increased prevalence of food allergies is astonishing: 12 million Americans now have food allergies (which can be life-threatening), with peanut allergy alone tripling in a decade.
But finally some good news for the millions of individuals and families suddenly contending with all these allergies – Allergic Living, a highly informative magazine created especially for those with allergies and celiac disease, launches this week across the United States.
"We began Allergic Living in Canada, and had incredible outpouring of interest for an American edition of the magazine," says Gwen Smith, the editor and co-founder. "A U.S. edition was always a key part of our business strategy, so we're delighted to be able to say 'yes, it's here!' – and so proud that the first issue is a knockout."
Smith, who is an experienced senior magazine and newspaper editor (Maclean's, The Globe and Mail), has serious food allergies herself. As a result, Allergic Living shows a strong grasp of the often daunting, recurring challenges of life with allergies and celiac disease: from birthday parties and staying safe at school to the adult issues of business lunches and travel to foreign lands (and out of your food comfort zone).
"Those who are subscribing to this magazine want to live full lives, but with conditions that can cause serious illness or even death, the world can be a tricky place to navigate," Smith says.
In its debut Spring 2011 issue, Allergic Living gets to the heart of one major challenge: restaurant-going. The exclusive "Guide to Smart Dining" includes allergic reaction-prevention strategies and advice from celebrity chefs Ming Tsai and Susur Lee. The publication breaks ground with a report of a new peanut vaccine, and it offers an intriguing and surprising cross-America report on the worst pollinating trees – "The Bad Boys of Spring" – as well as allergy-friendly Spring suppers.
There are superb recipes from Karina Allrich, known to her millions of blog followers as the Gluten-Free Goddess, and a must-read essay on eating gluten-free while traveling by Shauna James Ahern (aka the Gluten-free Girl). Allergic Living health writers gets inside the latest allergy, asthma and celiac findings, including proof that "gluten sensitivity" is a whole separate condition from celiac disease – one that affects up to 18 million Americans!
The word "living" in the magazine's name is no accident. Smith speaks of her own love of good food – while avoiding her allergens: soy, shellfish and peanuts. "My attitude is that I have allergies, but they don't have me. That's exactly what I wish for all our readers and their families."
For more information about Allergic Living or to interview Gwen Smith, contact 416-760-8381 or 1-888-771-7747.
Or e-mail editor(at)allergicliving(dot)com
###