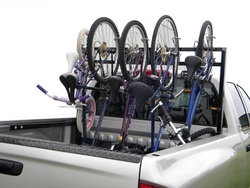 Everyone has to stop and take a look at it. They've just never seen anything like it before.
La Porte City, IA (PRWEB) April 13, 2011
RempRack's new bicycle rack for pickup trucks introduces an excellent option for bicycling families that are towing campers.
The new RempRack design utilizes a patent-pending vertical mounting system that allows a quantity of bicycles to be securely mounted into a very small amount of space. In today's modern pickup trucks this simple design sits high and dominant - and immediately strikes observers as something completely different.
The rack's vertical plane mounts in the forward portion of the truck bed. The bicycles hook into a top-side hook and lower fork clamp hitch. Together, these two connecting points hold the bikes securely. A major portion of the truck bed remains available for other gear, and the side (inside the sidewall) support rails add convenient strapping points for securing gear.
The new RempRack bike rack is intended for families that travel in their pickup truck – while also pulling a camper or boat. The system provides an effective way to securely and compactly transport a full family's set of bicycles in these towing scenarios. Such options have previously been quite limited.
The new rack mounts to the host truck using only four bolts - utilizing existing holes for two of them. When not in use, the RempRack leaves the truck bed and the rear cab window entirely clear and unobstructed.
As a substantial truck accessory, the RempRack should be professionally installed. After initial installation, the owner can easily remove and re-install the rack. RempRack recommends that customers mount the rack in the spring and leave it in for the entire season - removing it in the fall for the winter season (if desired).
The RempRack is made of heavy gage steel and held-together with rust-free stainless steel hardware. It's tough powder-coat finish will withstand considerable abuse, and the rack will likely outlast the truck.
RempRack has been exhibiting their new family bike rack design at spring Outdoor, Sportsman, and Camping shows throughout the Midwest. "It's a real eye-catcher," says Bruce Rempe, President of RempRack Systems; "Everyone has to stop and take a look at it. They've just never seen anything like it before."
The RempRack is available from RV Dealers, Bike Shops, and Truck Accessory Dealers nationwide. Check with your local dealer for pricing and installation details.
# # #