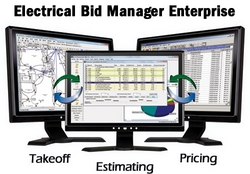 Most companies experience ROI from their On-Screen Takeoff software investment within the first year
Carlsbad, CA (PRWEB) April 12, 2011
In 2010, Vision InfoSoft launched new estimating software integration, added hundred's of new customers and won several industry awards. While the construction industry continued to wait for recovery, Vision InfoSoft continued to improve their software to help electrical contractors better compete in a down economy while preparing for growth.
In March 2010, Vision InfoSoft announced the launch of a link for their estimating software, Electrical Bid Manager(EBM), with On Center's On-Screen Takeoff(OST). The integration of EBM and OST allows contractors to complete the entire estimate process from digital plan takeoffs, estimating materials and labor, and creating bid reports all on one screen.
Since March 2010, over 200 electrical contracting companies have taken advantage of this innovative software suite. Sales are expected to continue increasing as the software gains more recognition. Integrated On-Screen Takeoff with estimating software has proven to save electrical estimators hundreds of dollars on each bid request plan set, allowing an estimator to bid on more work with the same budget. "It is not a surprise that On-Screen Takeoff® sales have significantly taken off within this past year. Companies are looking for ways to cut costs and are willing to invest in software that offers rapid ROI. Most companies experience ROI from their On-Screen Takeoff software investment within the first year," states Derrick Delliquadri, Marketing Director for Vision InfoSoft Corp.
Vision InfoSoft's successful integration of Electrical Bid Manager and On-Screen takeoff has shown to cut costs, increase accuracy, and complete estimates at a higher level. Wm. Paul VanderWerff, a satisfied Vision InfoSoft customer of 17 years, integrated On-Screen Takeoff with his Electrical Bid Manger Pro in March of 2010 for his company ARC Electric. Paul shares, "I can tell you that EBM's interface with On-Screen Takeoff is not only significantly better, it works the way I had always imagined one should. The ability to modify assemblies and jump between programs is unmatched. This is the most significant improvement in estimating tools I have seen since EBM came out years ago."
In October of 2010 Vision InfoSoft went one step further in offering the most innovative software for the electrical industry. A new software suite was added to their product line that offered a complete software solution for electrical contractors, called Electrical Bid Manager Enterprise. This software suite consists of Electrical Bid Manager Pro™, On-screen Takeoff®, and in-house daily pricing updates(EPIC™). The complete integration of On-Screen Takeoff and EPIC™ Pricing Service with Electrical Bid Manger has proved to be the total solution to producing profitable winning bids in less time.
James Wescott, a Vision InfoSoft customer of 17 years, has Vision InfoSoft's complete electrical estimating software suite, Electrical Bid Manager Enterprise, at his company Wescott Electric. James states that, "Wescott Electric has jumped from 7 to 15 million dollars in revenue the last two years. Although I have been approached by numerous competitors, I have stayed loyal to Vision InfoSoft's software, as it is the most flexible and easy to use. The boost in revenue for my company is proof that Vision InfoSoft's software truly helps in winning bids, especially during this tough economy!"
Electrical Bid Manager Enterprise has been a successful addition to the Vision InfoSoft product line and has already received two prestigious industry awards; 2010 NECA Showstopper and a 2011 Constructech Commercial Top product award. These awards offer recognition for the hard work Vision InfoSoft has put into ensuring their customers are successfully using softare that helps grow their business.
###