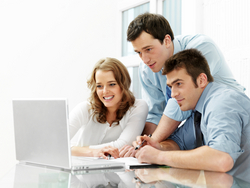 Santa Paula, CA (PRWEB) April 12, 2011
Logos Management Software, Inc. a developer of leading fund accounting and church management software, today announced it has launched PeopleFlow,a complete digital employee management solution from NACPA (National Association of Church Personnel Administrators). PeopleFlow was created to automate the process of onboarding for pre-hire and post-hire needs and give you a global status view of multiple physical locations.
Various elements of onboarding include but are not limited to: background verification, certification checks, task management, custom alerts, employee equipment allocation, and indoctrinization. Creating a digital database guides the process of employee and employer needs. It also eliminates paper forms and manual data entry errors and builds an organized record of employment and/or volunteer history of your people.

Administrator controlled security settings for sensitive information
Automated background screening with outside screening agency
Electronic document storage and note taking
Automated alert/ task-based workflow
Real-time status of employee process information through a web-based dashboard - put status in there somehow
Directly interfaces with LOGOS Payroll
Create emails and mail merge letters directly from grids
"We're very excited to bring a cradle to grave solution for people management," says Tony Ferraro, Chief Visionary Officer. "From application to termination, PeopleFlow will help your organization ensure safety, HR compliance, and better provide strategic information for enterprise people resource planning,"
Save time by streamlining your back office onboarding procedures. PeopleFlow provides the confidence of knowing the environment is secure by managing background checks, confidence that the user is in HR Compliance using automated employer folder checks and saving money by improving your organizations process efficiency.
About Logos Management Software, Inc.
Logos delivers solid church data management, a fully featured fund accounting system, and community software solutions to churches, non-profits and schools. Discover the efficiency of a well-designed office system with features like: easy child check-in, individual and visitor information, highly flexible profiles (skills and roles), confidential contribution records, and groups & attendance tracking. Easily customize features to fit your operation. For additional information, visit http://www.logoscms.com.
# # #