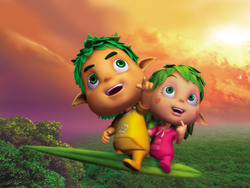 Phoenix, AZ (PRWEB) April 27, 2011
Bosco and Zoe are quickly moving from the toy fair to the TV: Pacific Dragon Holdings, Inc. has recently acquired the rights to the animated characters, and is developing a children's show in both English and Spanish.
Pacific Dragon Holdings will enter into a joint venture with Brothers Victory Cartoon Animation Fabrication Co., Ltd., the company that created the characters, to manage global licensing for the show. There are currently 130 completed episodes of "The Bosco and Zoe Show," with 40 more in production.
The company plans to air the show for two years, at which time they will begin work on a film. Jeff Myers, president of Pacific Dragon Holdings, said he is already writing an outline for the script.
The sophisticated animation has been done by four studios in the Huai'an City area, part of mainland China. Myers is in talks with larger animation houses about collaborating on the Bosco and Zoe project.
"Bosco and Zoe are destined to become major characters in the preschool market," Myers said. "The sweet, innocent wisdom that each of these characters possess is something that is not very often seen."
Myers first encountered the characters while at the International Hong Kong Toy Fair in January 2011, where he found a small booth that was displaying a poster of a character called Alafa. The company representatives running the booth explained that Alafa was popular in one province in China, and they wanted to introduce the show to the Western market.
Myers was intrigued, and in February began meeting with Brothers Victory Cartoon Animation Fabrication Company. Despite significant language barriers, the two companies agreed on a contract. Pacific Dragon Holdings obtained the North American, South American and Japanese rights to the character. The company had the rights to re-name the characters, redub the show and produce new western version of the television show.
For Myers, this experience has been one full of pleasant surprises.
"It all started with a casual glance, a change meeting in a foreign country and two foreign groups coming together in unity, creating a new international joint venture," he said. So get ready to welcome this wonderful new children's animation, "The Bosco and Zoe Show" as it gains exposure worldwide.
###