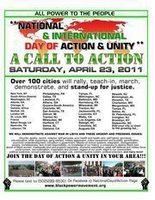 "IT IS OUR TIME TO STAND UP FOR OURSELVES AND STAND UP FOR OUR RIGHTS AND TO SEIZE THE TIME TO CONTROL OUR OWN DESTINY!" - Day of Action and Unity National Organizing Committee
Washington, DC (PRWEB) April 12, 2011
Saturday, April 23rd Promises To Be A Big Day As Blacks Nationally And Worldwide Take To The Streets To Join The International Tide And Struggle Of Revolution And Change That Is Sweeping The Planet. On The "The National Day Of Action And Unity," Saturday, April 23rd, Black Activists will rally, march, demonstrate, protest, educate and confront injustices like never before in over 60 cities in America and Africa.
WHEN: Saturday April 23, 2011
WHAT: "National/ International Day Of Action And Unity"
WHERE: In Over 60 Cities In America, Africa And Worldwide
WHY: Because Blacks Worldwide Are Dissatisfied At Their Current Condition
HOW: Through Rallies, Marches, Demonstrations, Programs Held Simultaneously In Unity In Over 60 Cities On Saturday April 23
EMAIL: Nationaldayofaction(at)yahoo(dot)com
TEXT: 502-299-8530
FACEBOOK: Nationaldayofaction page website.http://www.blackpowermovement.com
These cities and nations include: New York, NY; South Africa (Azania); Washington, DC; Atlanta, GA; Chicago, IL; Gambia, Africa; Norfolk, VA,; London UK; St. Louis, MO; France; Baton Rouge, LA; Nashville, TN; Lebanon, TN; Newark, NJ; Philadelphia, PA; Atlanta, GA; Dallas, TX; Lakeland, FL; Athens, GA; Guyana-South America; Charlotte, NC; San Antonio, TX; Detroit, MI, Trenton NJ, Milwaukee, Wi; Hartford, Ct; Selma, AL: Oakland, CA; Houston, TX; Charleston, WV; Morgantown, WV, Birmingham, AL, Tampa, FL, Wilmington, NC; Baltimore, MD; Harrisburg, PA; Milwaukee, WI; Trenton, NJ; Jacksonville, FL; Chicago, IL; Louisville, KY; Watts, CA; Los Angeles, CA; Raleigh, NC; Columbia, SC ; Augusta GA; Tampa, FL, Selma AL, St. Petersburg , FL; Irvington , NJ; Brooklyn, NY; and more to confirm soon. The April 23rd Day of Action is supported by Students and Youth, members of many of Black Church, the New Black Panther Party, Nation of Islam, National Black United Front, National Action Network, Moorish Science Temple of America, Rainbow Push Coalition,
Organizers are proclaiming that there are serious problems that exist within our communities and nations that if left unaddressed will continue to plague Black people all over the world. They say that while America is bombing Libya, our condition is deteriorating at home is left largely ignored and that the problems of Africa are blatantly ignored by the world and the U.S. Government.
"The National Day of Action and Unity" will bring to attention the plight of so many who are uneducated, exploited, behind prison walls, disunited , in poor health, homeless, victims of police brutality, pimped by crooked politicians, tortured, falsely accused, under developed, morally perverse, apathetic, addicted to drugs and alcohol, victims of harsh budget cuts and genocide. Special attention will be given to victims of neo-colonialism, corrupt governments, imperialism, capitalism and inadequate concern for the Diaspora of Africa. The injustice of Oscar Grant and victims of police brutality and the plight of political prisoners and the wrongfully accused from Black and indigenous nations will be a key rallying point.
The Day Of Action And Unity Organizers Are Also Calling For A Buy Black Only Campaign And A Boycott Of All Non-Black Businesses For The Weekend Of April 23rd. This effort is organized by the people and for the people and by a younger leadership that un-approved by the powers that be. They are grassroots activists, youths, residents, union members, community residents, spiritual people, revolutionaries and freedom fighters who have decided to take a stand together April 23rd.
Historically knowing the odds they say they are up against, organizers say they have no choice but to take action in a strong manner and that to remain silent, stagnant and on the sidelines is no longer an option. The call of Dr. Malik Zulu Shabazz has resonated with the disillusioned all over the earth.
April 23rd, 2011 DAy of Action and Unity organizers are taking vigilantly to the streets, police stations, projects, courthouses, State Capitols, houses of racists, morgues, jails and anywhere our people can be found and the fight can be found for justice! They rattle the power that be and those who are asleep to show and prove the world Blacks are wide-awake! Organizers are saying that, thier demands are immediate and non-negotiable.
###