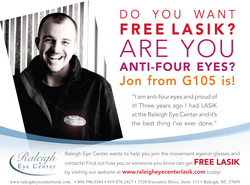 I have been anti-four eyes for over three years! Getting LASIK at Raleigh Eye Center is the best thing I have ever done.
Raleigh, NC (PRWEB) April 12, 2011
Raleigh Eye Center, a leader in laser vision correction in North Carolina, is conducting a LASIK giveaway contest during the month of April. During the Anti-Four Eyes Contest, entrants can share their stories in a confidential form on Raleigh Eye Center's website or in-office. Each entrant should explain on the form why he, she, a close personal friend, or relative is the best choice for free LASIK. Contest entries can include family stories, personal testimonials, or other material the entrant feels provides the most favorable explanation. The staff will then select a winner from the forms received.
"We have already received a phenomenal turnout and have enjoyed reading the stories shared by our fans," said Kelley Malin, Refractive Coordinator at Raleigh Eye Center.
Dr. James Kiley, M.D., is a refractive surgeon at Raleigh Eye Center who believes in his patients. He understands that LASIK is a costly procedure some cannot afford, and he wants to give back to the community that has supported his practice for over 30 years. "We thought this would be a fun way to give away free LASIK. I hear funny stories from my patients all the time. Why not have the story be the deciding factor in a contest?" said Kiley.
Raleigh Eye Center is no stranger to treating local celebrities. Radio personality Jon Clark, host of "The Jon Show" and producer on Raleigh-Durham station G105 (WDCG 105.1 FM), had surgery at Raleigh Eye Center. "I have been anti-four eyes for over three years!" said Clark. "Getting LASIK at Raleigh Eye Center is the best thing I have ever done." For potential LASIK patients who are curious about the procedure, Clark has posted a series of videos on WDCG's website which document his experience with LASIK surgery at Raleigh Eye Center step by step.
The Raleigh Eye Center has been improving the vision of triangle area residents for over 30 years. With a reputation for providing quality, comprehensive eye care, the Raleigh Eye Center offers a full range of services from routine eye care to refractive, cataract and glaucoma surgery. Located in Raleigh at 3320 Executive Drive, Suite 111 Raleigh, NC 27609. For more information, call (800) 596-0384 or visit online at http://www.raleigheyecenterlasik.com.
###