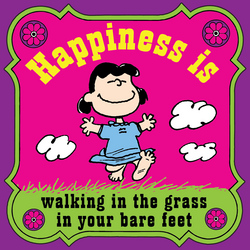 It's the springtime of PEANUTS' Year of Happiness is..., and that means flowers are blooming, the birds are starting to sing again, and a certain beloved beagle is making his rounds, basket of goodies in hand.
New York, NY (PRWEB) April 12, 2011
Having declared 2011 "The Year of Happiness is…," PEANUTS is offering a month-by-month guide to all the big and little things in life that make us happy at http://www.facebook.com/snoopy. It's the springtime of PEANUTS' Year of Happiness is…, and that means flowers are blooming, the birds are starting to sing again, and a certain beloved beagle is making his rounds, basket of goodies in hand. That could only be Snoopy, a.k.a. "The Easter Beagle," and he's delivering treats to the entire PEANUTS gang.

The gift of communication. As they have for decades, Hallmark distills the loving and light-hearted essence of PEANUTS into these new cards featuring Snoopy and Woodstock celebrating the glory of Easter. Sending springtime love to your friends and family has never been easier—or more charming! Available wherever Hallmark cards are sold; starting at $1.99.
A cuddly friend or two. In a more huggable addition to their cards, Hallmark has also released an adorable Snoopy-and-Woodstock interactive plush—complete with Easter-appropriate bunny ears! Press the button to hear a fun version of "Blue Danube" while Snoopy wiggles his ears to the beat. Woodstock enjoys the ride from his perch atop Snoopy's head. This delightful duo is available exclusively at Hallmark Gold Crown stores nationwide for $29.95.
A guest-greeter. When you're too busy preparing Easter treats to properly greet your guests, this dapper dog from Gemmy does it for you! With his smart Easter egg-themed tie, he's ready to give your guests the VIP treatment. Available at Kmarts across the country for $29.99.
A remastered classic from Warner Home Video. Celebrate the lighter side of Easter with this perennial favorite:
In "It's the Easter Beagle, Charlie Brown," Linus is sure that the Easter Beagle is going to make Easter a holiday to remember, but the rest of the gang isn't convinced; they go ahead with their own Easter plans instead. Lucy prepares an Easter egg hunt, which Snoopy sneakily sabotages, while Peppermint Patty struggles in vain to teach Marcy the proper way to decorate an egg. But, in the end, the legendary Easter Beagle really does save the day. Available at Amazon for $11.99.
The no-mess Easter egg hunt. Search for Easter eggs along with the cast of PEANUTS in this interactive children's book from Running Press Kids:
In "The Easter Beagle Egg Hunt," Lucy and the rest of the gang are having a blast finding all the hidden Easter eggs—but every time they turn around, there are fewer eggs to be found! Where could the eggs have gone, and who could be behind this egg-napping? Chances are the mysterious Easter Beagle has something to do with it! Available at Amazon for $7.95.
Behind every great Easter basket there's... PEANUTS Whitman's Chocolates! These delicious candy samplers are sure to please any sweet-lover. Available at grocery and convenience stores nationwide; starting at $1.29.
The PEANUTS characters and related intellectual property are owned by Peanuts Worldwide LLC, a joint venture owned 80% by Iconix Brand Group, Inc. and 20% by members of the Charles M. Schulz family. Iconix Brand Group, Inc. owns, licenses and markets a growing portfolio of consumer brands including CANDIE'S (R), BONGO (R), BADGLEY MISCHKA (R), JOE BOXER (R), RAMPAGE (R), MUDD (R), LONDON FOG (R), MOSSIMO (R), OCEAN PACIFIC(R), DANSKIN (R), ROCA WEAR(R), CANNON (R), ROYAL VELVET (R), FIELDCREST (R), CHARISMA (R), STARTER (R) and WAVERLY (R). In addition, Iconix owns an interest in the ARTFUL DODGER (R), ED HARDY (R), ECKO (R), MARC ECKO (R), ZOO YORK (R), MATERIAL GIRL(TM), and PEANUTS brands. The Company licenses its brands to a network of leading retailers and manufacturers that touch every major segment of retail distribution from the luxury market to the mass market in both the U.S. and worldwide. Through its in-house business development, merchandising, advertising and public relations departments Iconix manages its brands to drive greater consumer awareness and equity.
###