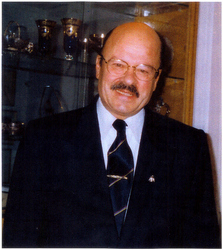 My friends, lets love each other.
Beverly Hills FL (PRWEB) April 12, 2011
Admiral P.Kikareas, President of the World Foundation of Peace and Security, has devoted his life for peace and security among humanity. Today he makes a request to the populate of the World to maximize Love in order to avoid the coming catastrophe.
Kikareas says, "My beloved brothers and sisters all around the earth. All of you no matter of race, of nationality, of status of health, of wealth, of high or low rank, or job, or religion, or faith.
"No matter if you are a King, a President of a Country, of a Government, or you are a soldier or a General, of any kind of Alliance or Nation, or group, or whoever you are.
"I would like to confess to all of you who I love. My friends, lets love each other.
"We look at the stars, the Universe, all these billions of Harmonious moving like dancing stars, and we don't see everything yet, because their light is still travelling with the speed of light since millions of years ago, since the beginning of the creation of the Universe!!!
"The human mind stops here and admires the magnificent creation of the Universe and asks: Where does it stop? And if it stops somewhere, what is next? Our mind cannot actually work on these dimensions of infinity.
"We are in front of the most outstanding creation, which has its laws given by the Creator who is continuously working for keeping His creation to follow its harmonic move.
"He created us upon His image and gave us freedom because of His Great Love. He does not intervene except if we ask Him to, and again if we believe at Him and have loving and forgiving heart.
"My brothers and sisters there is not Greater Power than the power of Love. The more unselfish our Love is, the most pure and strong it is and the Greatest Power it has.
Healing power, connecting power for all of us to become ONE unified by the Grace of God.
"Think about that, and then think that each one of us carries his own book where he writes all his life, every moment. This is the only thing that we will always carry with us.
"There are not soldiers of God, because God is Love pure Love, without limits. We become soldiers of God in a way, if we become soldiers of Love, and we try to act accordingly. Don't believe anything different about that. This is the only Truth, so easy to understand to, but so difficult to follow. This is the real code hidden in us. This is the transforming power that every person, poor or rich, clever of intelligent may follow.
"All the great religions say, that the one who wants to be first among you, he should be the last one he should be the servant of all the others, and he will do that humble and with love.
"Now please let's all of us make a stop. Lets go to a silent place, ask God to forgive us and try to go deep into our LOVING HEART OF OUR INNER BEING AND TRY TO HEAR THE VOICE OF OUR CONSCIOUSNESS. If we are sincere with ourselves and do it, then we'll hear the voice of truth, which is written there by our Creator, then we will understand what and who we really are, if, whatever we are doing, is really what God wants us to be. Believe me, what God wants us to do is this, which maximizes LOVE.
"Now we know, lets do it and try to follow this. We will become very different. We will become Sons of God.
"I am sure that if all the people of the world do this, then Huge Healing Energy will come into us, upon Earth, among people, among Nations, in all the creation. Everything will be elevated and even the physical phenomena will change course.
"Believe me. I say that with great pain as I see the end of the humanity coming closer and closer. Because Love is year by year diminished, being replaced by hatred, brought there by our Ego and the Dark evil energy that lies to us in order to destroy everything.
"I watch for many years now what is happening and I worry very much for our children. Because all of us are human beings and after 100 years, no one of us will be still living on the earth. Where we are going to be we don't know. No one knows for sure, believe me no one.
"If we resist hating, if we become sons and daughters of Love, if we listen our Loving Heart and forgive then this planet from jungle will become paradise. No one will ever try to take advantage of the other. The Leaders will always solve their problems and lead their Countries solving each time the equation of maximization love. This will give them the right actions to be taken. Suffering and killing will be disappearing. The humanity will turn into a paradise."
World Foundation for Peace & Security is a Brunch of the Florida Registered Incorporation Hellenic Aspis & Associates, http://www.hellasp.com, and the last 10 years has offered a lot in promoting the Peace Security of the World, and has created templates for crisis management, and ways of bringing societies and people closer.
Admiral P.Kikareas
World Communicator
Hellenic Aspis & Associates Inc.
World Foundation for Peace & Security
President & CEO
###