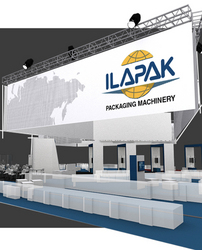 (PRWEB) April 13, 2011
This edition of Interpack takes place a year after ILAPAK's celebration of 40 years of operation committed to customer profitability backed by its dedication to service, excellence and reliability. To mark the occasion, ILAPAK is once again bringing an impressive number of cutting edge technological innovations to Interpack, underscoring the company's ongoing investments in R&D aimed at reducing operating costs, enhancing performance and constantly improving pack quality in both food and non-food applications.
Among the advanced machinery that visitors to ILAPAK's stand can see in action will be the groundbreaking ultrasonic sealing system on the Vegatronic 4000 OF, the newly designed Delta 4000 3-side seal for cheese, the exclusive Flexidity® stand-up pack and the ultra-hygienic pump for the Alfa 1200 sachet machine. In all, ILAPAK will be showing 13 outstanding machines and lines at the 2011 edition of Interpack.
Beginning with the Delta family of HFFS machines, customers will be able to admire the fully automated Delta flowrapper for vacuum packing large portions of meat and cheese in high volumes, a real showcase for ILAPAK's turn-key project handling capabilities. This line offers significant cost advantages over the more common practice of using pre-made bags in different sizes that require a great deal of manual labour, or very sophisticated robotics, and the inefficient warehousing of the bags themselves.
This line is capable of measuring the length of each product, wrapping the portion of meat or cheese into a "flowpack" leaving one side open, then delivering it to be vacuum sealed and trimmed. Film costs are greatly reduced and the line can be run autonomously.
Rounding out the Delta line on the stand this year will be the Delta 4000 3-side seal with zipper solution suited for cheese or sausages requiring hermetic seals. This machine is fitted with an automated convertible system making it capable of being rapidly changed over to produce standard pillow packs.
Moving on to its notable VFFS machines, ILAPAK is presenting the award-winning Flexidity® pouch, an exclusive new stand-alone pack developed in conjunction with leading packaging specialist Amcor on a Vegatronic bagging machine, specially designed, and patented, for the Flexidity packaging system.
This easy-opening and attractive pack, with a carton sleeve was developed to meet the increasing trend to consume on-the-go, is ideal for many types of products such as snacks, nuts, sweets, biscuits, chocolates, dried fruits and even ready meals. Over and above these functional qualities, Flexidity's eye-catching design ensures that it achieves excellent on-shelf product differentiation while its stackable design means that it can be cost effectively stored, shipped and merchandised.
ILAPAK is also launching the Vegatronic 5000 LD, a long dwell vertical bagging machine for small to medium-sized packs capable of producing exceptionally high quality seals at speeds of up to 160 packs per minute. This machine is fitted with an automatic film splicer, eliminating the need to shut the machine down to change film reels, as well as with a compact and fast WA 14-10 multi-head weigher. It is also available with a cross-rotary sealing head capable of up to 200 ppm throughput.
For applications requiring strict hygienic conditions, the Vegatronic 4000 OF is an impressive machine. The open frame design permits easy access to clean the equipment, but the innovation does not stop there. The machine uses ultrasonic sealing for both the horizontal and vertical seals, insuring the integrity of the seal even in the presence of product in the seal area. The ultrasonic sealing system also saves significantly on costs by lowering energy usage and reducing film consumption thanks to the reduced sealing height.
The other open frame design machine on the stand will be the VT2000 OF for frozen foods, fitted with the ILASEAL® constant temperature sealing unit that affords more efficient production, less maintenance and the ability to wrap using less costly PE film.
Closing out the vertical machines being presented at Interpack this year will be the VT 500 with an integrated multi-head weigher. Both the weigher and bagger are electronically controlled by a single HMI touchscreen, assuring the high speed and performance of this reduced footprint system.
ILAPAK's expertise in designing and building high-performance machines is evident in the Carrera 2000, an automatic line for deep-frozen mini pizzas featuring an ingenious intelligent lug system. This feeding system eliminates the need for phasing belts that accelerate or decelerate the product, which often cause products to slip and slide during the speed changes. The solution consists of a series of precisely arranged lugs capable of synchronizing and grouping single products to achieve a respectable 200ppm, with each pack containing 3 single products.
Making its Interpack debut this year after its acquisition by ILAPAK in 2007, Delta Systems of Rogers, Arkansas will be showing its Eagle HS Flow Wrapper designed for enrobed wafer bars. Delta Systems, a company specialised in integrated product delivery systems that automatically collate, group and stack products for a variety of industries, is now fully merged into the ILAPAK group of companies.
The line demonstrates the product randomly delivered on a wide belt and then ordered into single file for wrapping by a series of chicane belts achieving a speed of 1100ppm. This electronically-controlled system is powered by Delta Systems' SoftFlow® application running on a standard PC, making ownership and maintenance less costly and easier to maintain than restrictive proprietary platforms.
The Alfa 1200 multi-lane sachet machine, incorporating an integrated hygienic class X1 pump, closes out the machines on display this year. This stainless steel machine offers an exceptionally high level of hygiene and is suitable for 'clean in place' operations. It can be used to pack products including mayonnaise, ketchup, mustard, tomato paste, chilli sauce and similar products.
For the first time at Interpack, ILAPAK is dedicating space on the stand to its array of inventive aftermarket products dedicated to provide impeccable customer service that maximises equipment uptime and exceeds customers' expectations in terms of performance and price, delivering on ILAPAK's lowest cost per pack philosophy.
ILAFORM forming set technology is the perfect example of these values in action. These newly designed forming sets weigh less than 50% of conventional forming sets whilst maintaining the highest levels of design and construction standards.
Plant managers will recognise that radically lower weights enable machine operators to change pack size with reduced risk of injury and minimising or eliminating the need to use time consuming handling equipment to perform this task. Even more time savings are achieved by the hygienic design that reduces cleaning time to a minimum.
On the performance side, the forming set features low friction coatings to maximise web handling and smooth product flow, whilst the mirrored finish hard tube surface eliminates the need for low friction tape to be applied to the pull down belt surface, reducing maintenance costs.
ILAPAK is also introducing the groundbreaking Mini-PHOENIX controls upgrade. Component obsolescence, especially common with respect to electronics and control systems, need not jeopardise customers' long term investments in existing packaging machinery already integrated into production lines, in spare parts stock and operator training.
Making use of the advanced controls technology found on current machines, the Mini-PHOENIX represents an upgrade path to breathe new life into old machines. Each upgrade package is configured to perfectly suit the existing machine and boasts the latest technology in HMI graphics and operation.
Visit the ILAPAK stand and don't miss out on the opportunity to see the industry's most innovative and cutting edge packaging technology at Interpack 2011, and help us celebrate 40 years of service, excellence and reliability.
###