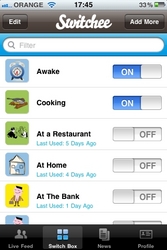 (PRWEB) April 13, 2011
Switchee is a new groundbreaking social status tool for the iPhone. At first the blogging experience was reduced to 140 characters and now, as a natural next step, it has evolved to an on/off switch. I'm Awake, I'm Driving, I'm Cooking, I'm Thinking, I'm Writing, I'm Excited, I'm Hungry - any switch you can imagine you can create and use aside the thousands of switches our community has already created.
iTunes Link: http://itunes.apple.com/us/app/switchee/id427802181?mt=8&ls=1
Flip on a switch and share your real-time status with close friends on the Switchee app or post it directly to your Facebook profile and/or Twitter page. If you're on the go, add your location via Foursquare check in, fully integrated within Switchee. Enhance your social experience with a simple flip of a switch.
Discover what's going on right now with your friends. Follow their daily activities, chat, comment and meet like-minded people from around the world. With the innovative in app 'Me Too' button you can share activities with friends and grab new unique switches they created.
Use Switchee as a utility tool to update your friends and colleagues. Are you busy? In a meeting? Why not flip on a switch and let everyone know that you're not to be disturbed within the next hour.
Switchee is your real-time conduit to your personal life and to everyone you know.
Here are some examples of what's going on now on Switchee:
Rusty E. is #Baking - Do I smell Blueberry muffins?! http://bit.ly/h95UVt
Liron S. is #SoundMixing – New Mosh @ Zaza studios http://bit.ly/gBK1At
Amitai K. is #WatchingTV - BARCA 5-1 - delicious!! http://bit.ly/fCep4d
Switchee is a new development from the clever minds of Maor and Ohad Ezer who have built and created http://www.YouLicense.com the leading online music licensing marketplace. After months of heavy development they are launching Switchee in hope people will connect with the idea and switch on their life.
"It all started one day when I fell asleep early and all my phones kept ringing endlessly. I thought to myself, after being awaken four times – can't I just flip on a switch and let people know I'm asleep? I also felt a growing need inside me for a more private and personal social experience that I can really share and express my daily experiences, meaningless as they might be such as sleeping.
The idea of flipping on/off switches on a phone was soon to follow. There are endless possibilities on Switchee and it's quite exquisite to see how people find their unique social uses of the app. I'm truly blown away everyday by Switchee." said Maor Ezer, Co-Founder and CEO of Switchee.
The Switchee iPhone application is available on the Apple App Store for all iOS devices as of March 28th 2011. An Android version is in development and is soon to follow the iOS release.
iTunes Link: http://itunes.apple.com/us/app/switchee/id427802181?mt=8&ls=1
Homepage: http://www.switchee.com
Media Contact:
Maor Ezer
Switchee Ltd.
info (at) switchee (dot) com
###