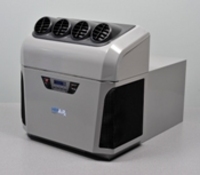 Good IAQ is critical to maintaining good health
Syracuse, NY (PRWEB) April 14, 2011
A patented, ventilating room air purifier that uses fresh, outside air to reduce indoor air pollutants is now for sale. HEPAiRx® quickly and effectively dilutes, filters and reduces the indoor pollutants that are often cited as causes of asthma, respiratory irritations and allergic reactions. HEPAiRx is made in America by Air Innovations, Inc., which is selling it direct from a newly launched website, http://www.hepairx.com.
HEPAiRx is a conveniently window-mounted unit with these unique features:
--High-efficiency particulate air (HEPA) filtration--to prevent contaminants from entering a room;
--Air conditioning--to help dehumidify and reduce the likelihood of mold growth in a room;
--Energy recovery ventilation--to bring fresh, outside air into a room; and,
--Heating--to isolate the room from the rest of the home, thereby preventing contamination from other rooms, like the kitchen and bath, from entering.
Millions of Americans suffer from diseases triggered by poor indoor air quality (IAQ). "Good IAQ is critical to maintaining good health," said Larry Wetzel, who is a licensed professional engineer, chairman of Air Innovations, and inventor of the HEPAiRx.
The U.S. Environmental Protection Agency acknowledges that indoor air pollution is a top environmental health risk and that the best way to address this risk to control or eliminate the sources of pollutants and ventilate a home with clean outdoor air. According to the EPA, inadequate ventilation can increase indoor pollutant levels by not bringing in enough outdoor air to dilute emissions from indoor sources as well as by not carrying indoor air pollutants out of the home.
There is no other air purification system on the market quite like HEPAiRx, which is most effective in single-room settings, such as bedrooms, where people spend large amounts of time. In addition, the unit's soothing "white noise" often blocks sounds from outside or inside the house, which may help occupants sleep better.
HEPAiRx has undergone several years of testing in the bedrooms of children who have physician-diagnosed asthma. "Ninety-five percent of the families who participated in a recent HEPAiRx clinical trial were so impressed with how well the product worked and how much better their children felt that they decided to keep the unit afterwards," said Wetzel.
HEPAiRx research results have been published in two peer-reviewed journals and have been presented at several international indoor air quality technical conferences. The studies show that, within minutes, the unit removes and reduces the kinds of pollutants that trigger respiratory irritations that can exacerbate the symptoms of asthma.
More than $2 million dollars in competitive grants and matching monies have been invested to further refine the product and expand clinical research in the area of asthma symptom mitigation.
HEPAiRx, which is manufactured at Air Innovations' headquarters in North Syracuse, NY, is ETL certified to Underwriters' Laboratories and Canadian performance and safety standards. It runs on regular household current (115V) and features cooling, heating or auto modes that are easily adjusted to the individual's temperature preferences. A window sleeve, which supports the unit and facilitates installation, is included with purchase.
The product, which retails for $3,595, may be reimbursable under customers' flexible spending and health savings accounts with a doctor's prescription. Tax, shipping and handling are additional. Visa, MasterCard and American Express are accepted. Orders may be placed by calling Air Innovations toll free at 800-825-3268.
For more information about HEPAiRx, visit http://www.hepairx.com, call 800-825-3268 (315-452-7400), or e-mail info (at) hepairx com.
About Air Innovations
Air Innovations(AI) was established in 1986 and is a leader in specialty air conditioning, refrigeration and environmental control solutions for original equipment manufacturers around the world. The company's systems are custom designs that feature close tolerance control of temperature (to 0.01°C), humidity control (to 0.5% stability), filtration, and pressurization, and can be configured into a variety of spaces. Products are design/built for customers in such industries as: aerospace, military; homeland security; pharmaceutical; medical devices; R&D; and, electronics. In addition to HEPAiRx, the company's branded products include Floratech® floral coolers for supermarkets and Wine Guardian® wine cellar cooling systems for residential, restaurant and commercial applications.
In 2010, Inc. magazine named AI 113th fastest growing privately held manufacturer in America.
###