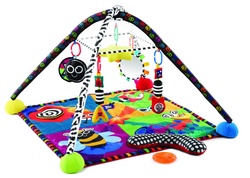 We're thrilled to have three of our products receive recognition from the Oppenheim Toy Portfolio
Carlsbad, CA (PRWEB) April 13, 2011
Sassy, Inc. is pleased to announce that the Rock and Roll Developmental Gym was among three of their new developmental toys selected to receive Oppenheim Toy Portfolio Gold Seal and Special Needs Adaptable Product (SNAP) Awards for 2011. The Oppenheim Toy Portfolio Gold Seal Award is given to outstanding new products that enhance the lives of children while the Oppenheim Toy Portfolio SNAP Award is awarded to toys that can be used or adapted for children with special needs.
The following outstanding Sassy toys earned the Oppenheim Toy Portfolio Gold Seal Award (2011):

Rock and Roll Developmental Gym™
Sensory Ball Set™
Wonder Wheel™
Sassy's Rock and Roll Developmental Gym™ is designed to help stimulate babies' motor and sensory development, while encouraging coordination through play. The Rock and Roll Development Gym ™ includes 17 activities that allow baby to explore the world of color, music, sights, and sounds. The following features inspire the key developmental categories:
Hearing – chimes, rattles, music, squeak, crinkle
Touch – variety of textured fabric and plastic
Vision – bold patterns, black & white, symmetry, mirrors
Taste – teether
The gym also provides a DVD promoting physical literacy and parental interaction, developed by Sassy and Gymtrix™.
The Sensory Ball Set™ is designed to inspire touch, hearing, and vision with three easy-to-grasp balls. Each ball includes unique features to encourage baby's development:
Soft fabric ball with high-contrast colors attracts baby's developing visual skills
Open hard plastic ball with rattle stimulates baby's recognition of rhythms
Squishy baby-safe plastic ball with bold tactile bumps encourages touch
The Wonder Wheel™ inspires development of fine motor skills by capturing baby's attention with bold colors, mirrors, and multiple textures. As the wheel turns colorful cascading beads catch baby's attention. By spinning the wheel, baby engages in the concept of cause and effect. Both the Sensory Ball Set and the Wonder Wheel also received the Oppenheim Toy Portfolio SNAP Award (2011).
"We're thrilled to have three of our products receive recognition from the Oppenheim Toy Portfolio," said Rick Schaub, President of Sassy, Inc. "Sassy is committed to creating quality infant toys and products that inspire development and foster learning through play. We are proud to, once again, be recognized by such a trusted and well-respected organization."
Sassy toys are available at retailers nationwide and online. To learn more about Sassy products, visit us online at http://www.sassybaby.com.
About Oppenheim Toy Portfolio
The Oppenheim Toy Portfolio was founded in 1989 as the only independent guide to children's media by child development experts and mother/daughter team, Joanne Oppenheim and Stephanie Oppenheim. The mission remains to provide parents with valuable consumer information as well as why products are developmentally appropriate for each stage. Toys are tested both by the Oppenheims and their network of family testers throughout the country. The Oppenheims are contributors to NBC's TODAY Show. Their reviews are posted on http://www.toyportfolio.com.
About Sassy, Inc.
Founded in 1982, Sassy operates out of Kentwood, MI. Sassy enjoys distribution in all major trade channels, including mass market retailers, food chains, drug stores, catalogs, and independent baby and toy stores in the United States. In addition, Sassy products can be found in 29 countries worldwide. Sassy's extensive product categories have grown to include developmental and attachable toys, infant and toddler bath and feeding products, grooming and hygiene products, teething products and room organization products. For more information about the company, go to http://www.sassybaby.com, or contact customer service at (616) 243-0767.
About Kid Brands, Inc. (Sassy's parent company)
Kid Brands, Inc. and its subsidiaries are leaders in the design, development and distribution of infant and juvenile branded products. Its design-led products are primarily distributed through mass market, baby super stores, specialty, food, drug, independent and e-commerce retailers worldwide.
The Company's operating business is composed of four wholly-owned subsidiaries: Kids Line, LLC; LaJobi, Inc; Sassy, Inc.; and CoCaLo, Inc. Through these subsidiaries, the Company designs and markets branded infant and juvenile products in a number of complementary categories including, among others: infant bedding and related nursery accessories and décor, food preparation and nursery appliances and cooking products, and diaper bags (Kids Line® and CoCaLo®); nursery furniture and related products (LaJobi®); and developmental toys and feeding, bath and baby care items with features that address the various stages of an infant's early years (Sassy®). In addition to the Company's branded products, the Company also markets certain categories of products under various licenses, including Carter's®, Disney®, Graco® and Serta®. Additional information about the Company is available at http://www.kidbrandsinc.com.
# # #